In the Spring of 2020, the "Taishan: Designing the Rural Cosmopolis in China" studio explored alternative forms of rural development using tourism as a catalyst for revitalization. Using Duanfen Town as the test site, the aim of the studio was to support existing social capital while stimulating new development through stakeholder collaboration and local empowerment. The projects demanded strategies to incentivize returning migrants and small to medium scale entrepreneurs to settle in rural areas that provide an alternative lifestyle for economic and social mobility. Within rural revitalization, thematic tensions were considered: heritage and development. The challenge in defining what is heritage in an urbanizing rural context and how heritage is inherited and integrated into future developments was of central importance.

With students from degree programs across architecture, urbanism, and landscape, the collective work of our studio produced a variety of narratives that grapple with the political and socio-economic complexities during Taishan's current transformation. Team projects demonstrate diverse reconciliations between conflicting interests and values of local stakeholders, different forms of heritage production, formal and informal growth, agrarian industries and new tertiary economies - all manifesting in a spatial mediation connecting settlements and landscapes.
Click ︎
below to see each multi-diciplinary student team project
2020年春,本项目在哈佛设计学院成立了 "台山:中国乡村都市设计"工作室,,旨在探索如何以旅游业作为振兴乡村的催化剂。该工作室以台山市端芬镇作为试点,希望能赋能于当地从业者、构建可持续性的社会生态网络和新发展模式。该项目将通过不同策略鼓励人口回流、扶持中小型企业家在该地发展。研究中考虑了各种社会紧张关系,包括在缓慢城市化的农村环境中界定什么是遗产以及如何将遗产保护与未来发展协调。

本工作室的成员来自于不同的背景,涵括了建筑、城市设计、和景观等不同专业,他们对于当前台山转型期间的政治和社会经济复杂性进行了跨学科的探讨。相互沟通、交流、学习,工作室的最终成果是一系列的空间设计手段和社会经济策略,望以调节当地不同群体间的利益冲突,整合不同形式的文化遗产保护,促生正式和非正式的经济增长,达成农业产业以和第三产业的融合。

Confetti Urbanism

Cadence Bayley, Sai Joshi, & Sam Naylor
In the last 100 years, the Taishan countryside has failed to abate its decline. Its aging population is matched by an equally decaying architectural fabric. Meanwhile, the massive Taishanese diaspora continues to flourish in larger cities nearby and abroad. Its current stagnation belies its cosmopolitan origins.
The region's heyday was, in a sense, the very catalyst of its decline
- the migration of residents was accompanied by economic and social opportunities. The earlier pattern of remittance and return grows increasingly uncommon as familial ties stretch thin across generations.
礼花都市主义

在过去的100年中,台山乡村正在衰落,体现于其人口老龄化与破落的建筑结构。同时,大量的台山人为了寻求发展机遇移居了国内外的各大城市。台山未能延续其繁盛且国际化的起源,如今正处在停滞状态。从某种意义上说,促使该地区鼎盛发展的机遇也是其衰落的催化剂—台山移民在外界获得了经济机会,但这也迫使他们背井离乡。随着家族关系在几代人之间延伸得越来越薄,衣锦还乡和回馈原乡变得越来越罕见。
Regional Plan

Fragment Plan


Cluster Plan


The territory's spatial evolution is limited to the extremes - the industrial mono-crop farms lease individual plots of land while remaining residents make minor adjustments to dwelling interiors. The spaces between - the architectural and urban fabric - are most resistant to change and therefore fundamental to the region's growth.


该地区的空间演变非常单一,例如工业化农企租用散户土地、或剩余居民对住宅内部进行小改造。建筑和城市肌理并没有变化,但他们的更新对于该地区的增长至关重要。
Presentation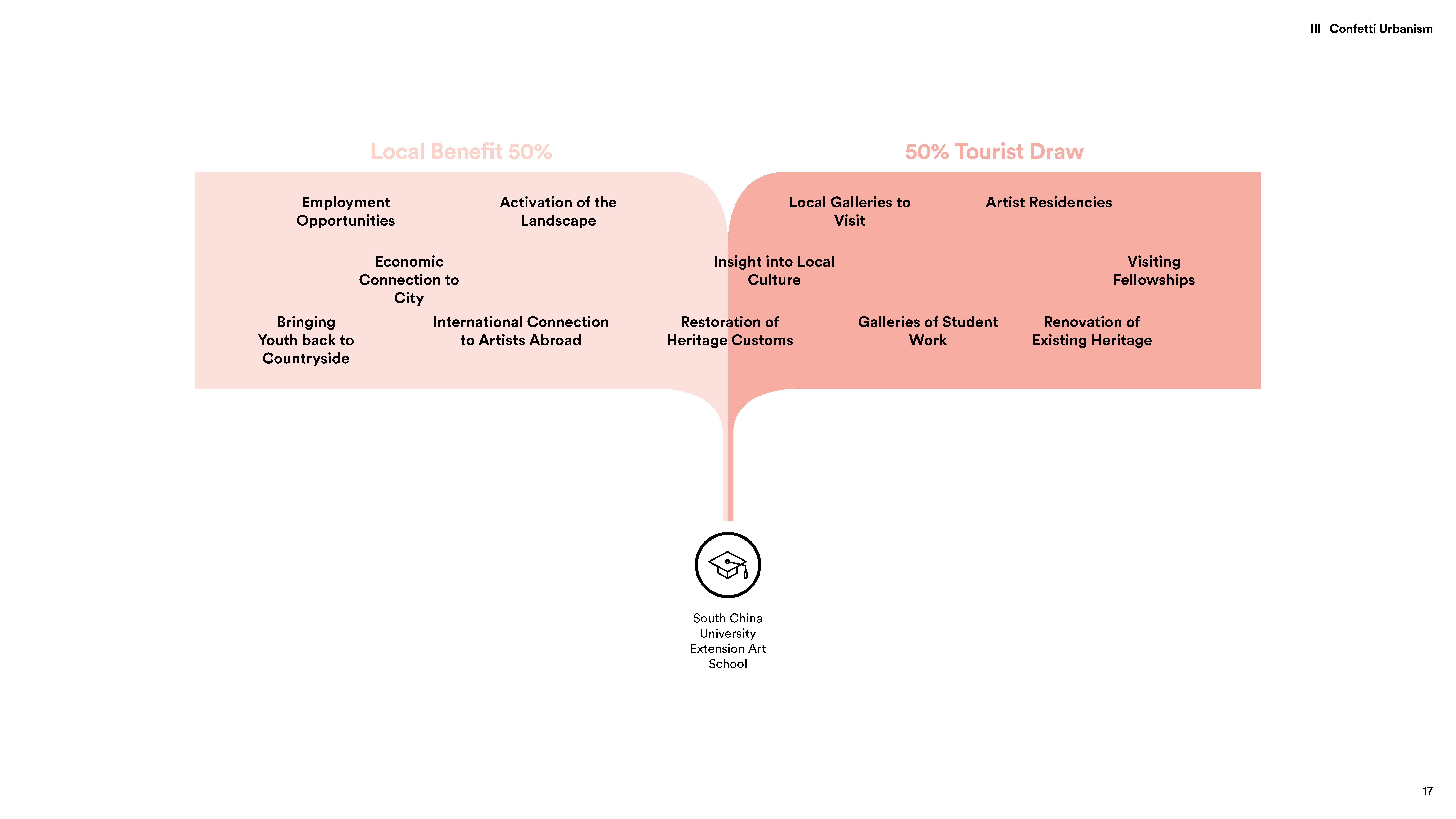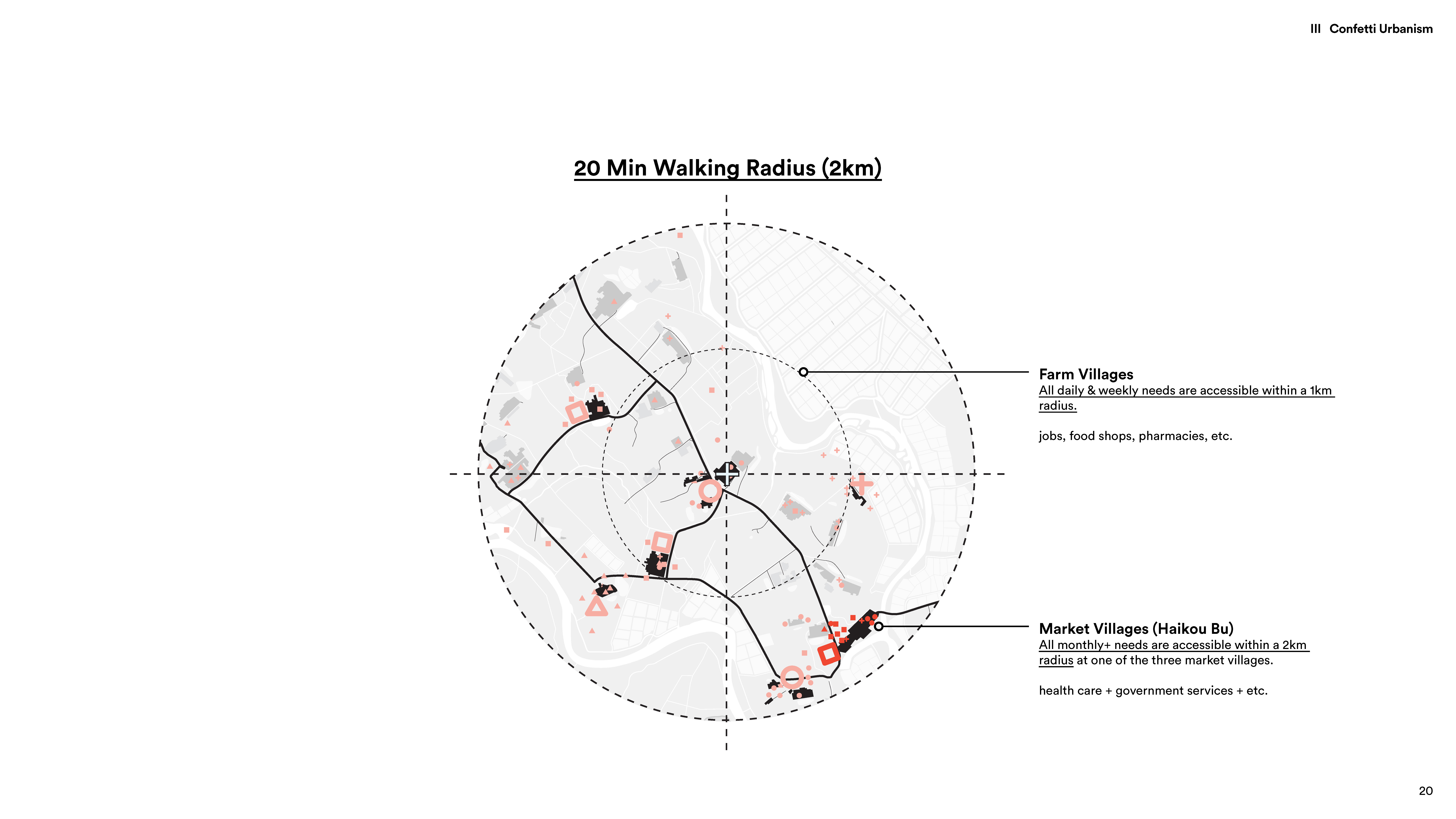 Our Confetti Network seeks to resist the typical hierarchical approach to contemporary Chinese countryside development.
Drawing inspiration from traditional landscape paintings and the relationship between landscapes and villages it proposes a network of interrelated nodes -- reinforcing the traditional relationship between each village cluster and the surrounding landscape. By strategically spreading out the development we seek to leverage the cultural balance of villages and farms, of yin and yang, rather than subject every surface of the hinterland to an endless application of urban sprawl. This project takes the position that continued legibility and the simultaneous evolution of architectural and landscape form is fundamental to the successful development of the countryside.

该项目立足于持续可行的建筑及景观更新对于农村成功发展的重要性。我们的礼花网络力图抵制当代中国农村发展的典型分层模式。我们从传统山水画以及景观与村庄之间的关系中汲取灵感,提出了一个相互依存的节点网络。这种发展网会加强每个村庄与周围景观之间的传统互生关系。通过战略性地分散发展,我们寻求村庄和农田(阴与阳)的文化平衡,而不是让台山的每个表面都迎接无休止的城市扩张。
Pointillism Vignette
Pointillism Presentation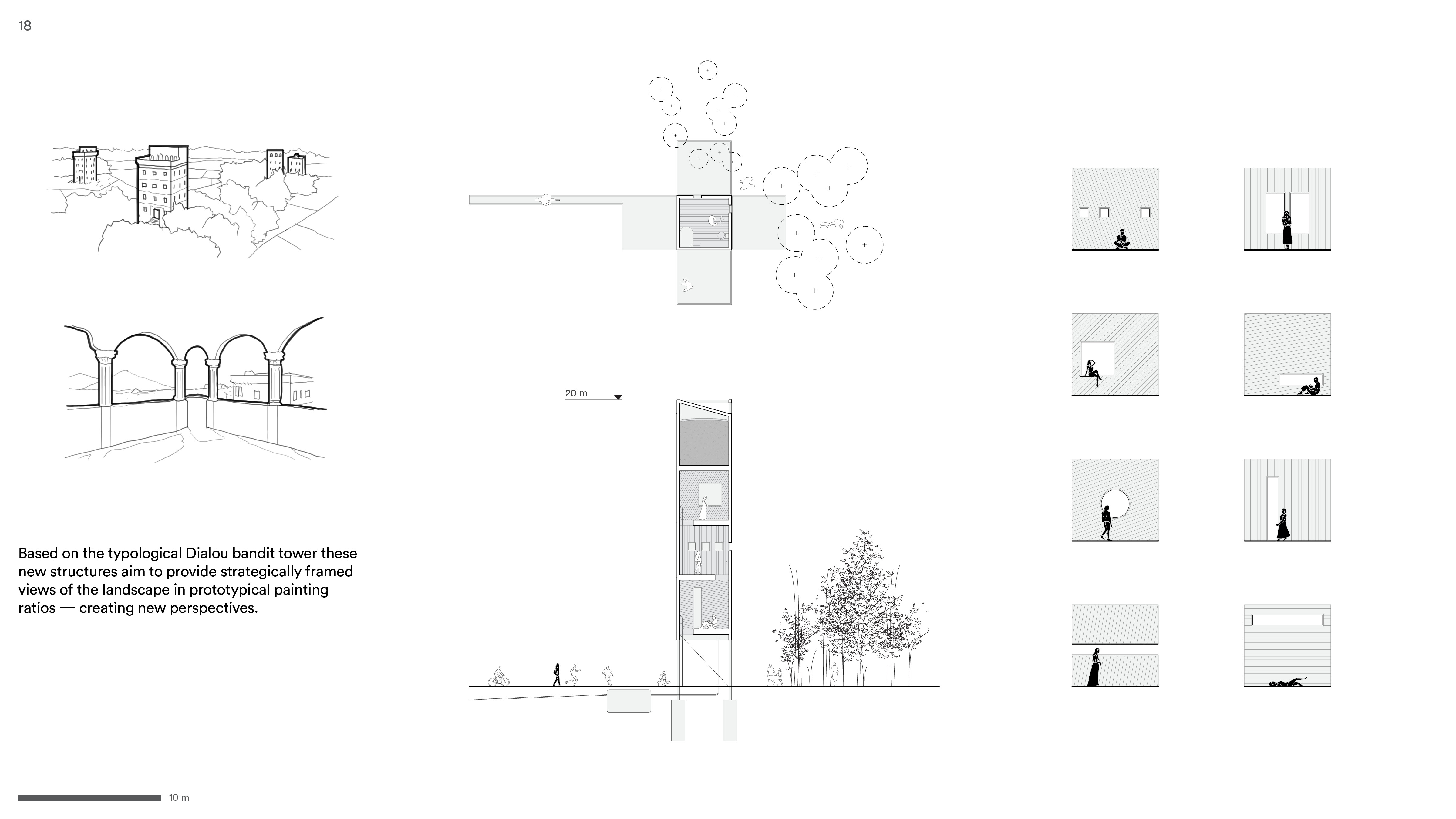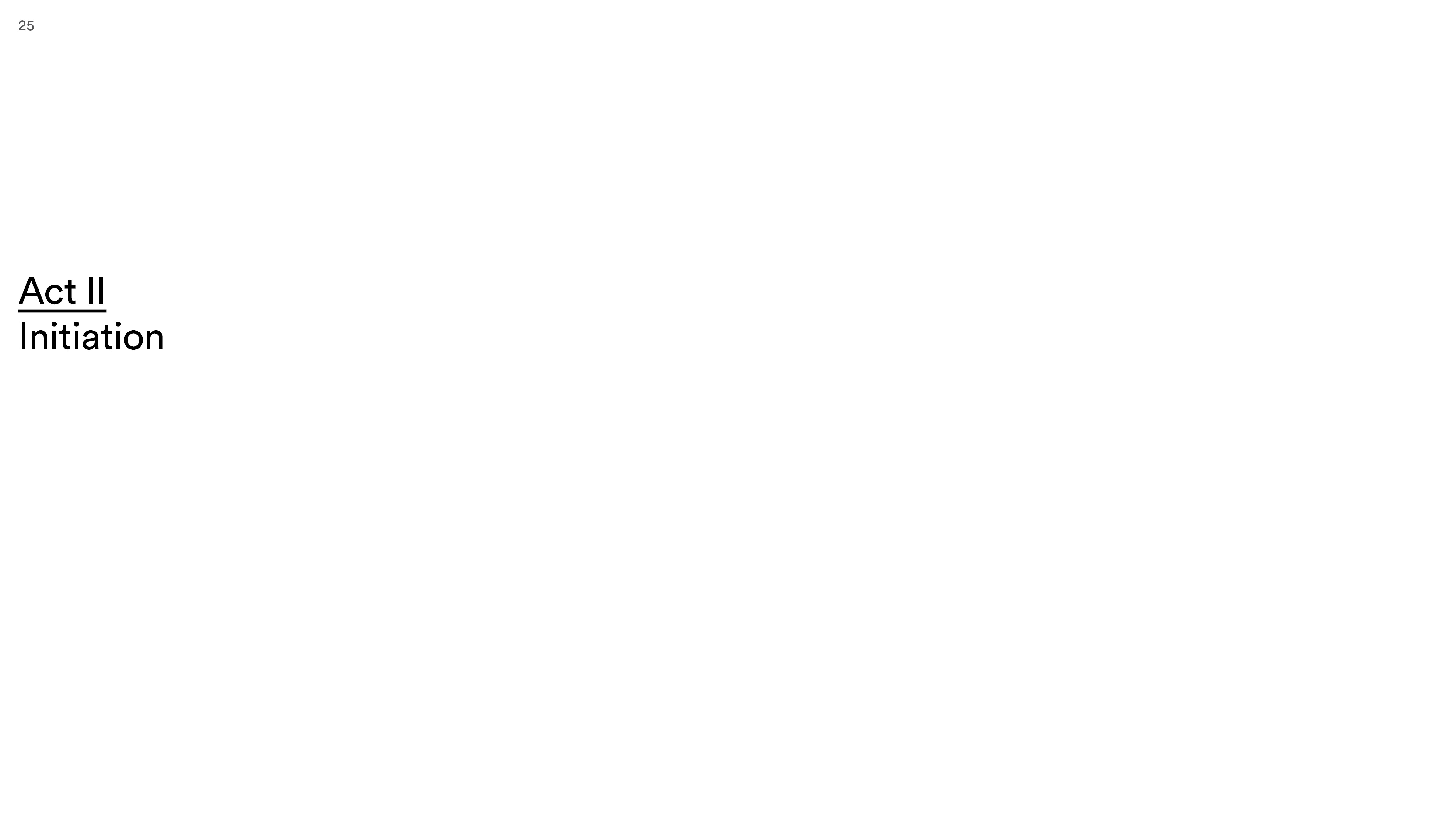 Reinstating Agency Vignette
Collective Courtyard Vignette
Collective Courtyard Presentation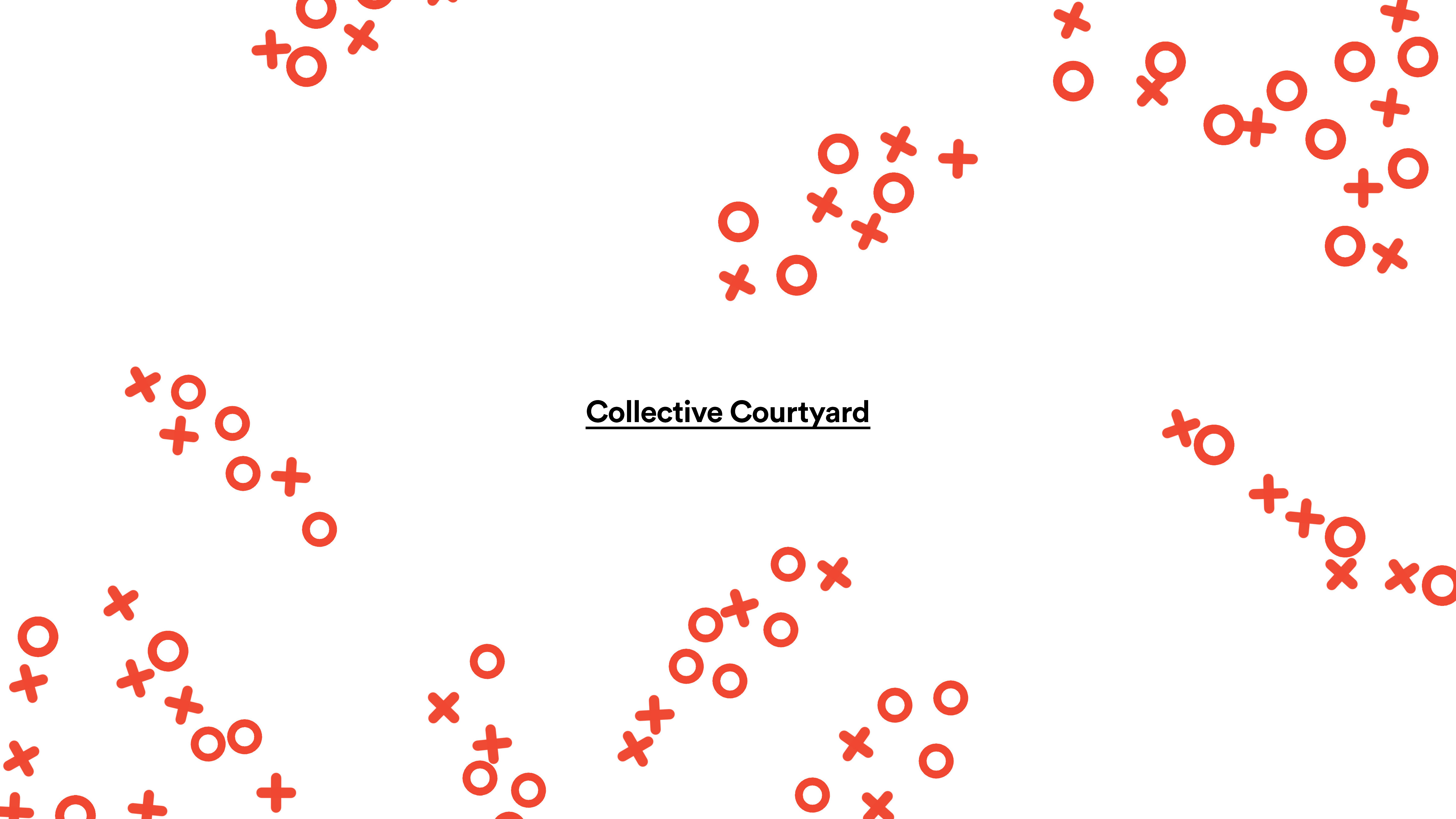 Reinstating Agency Presentation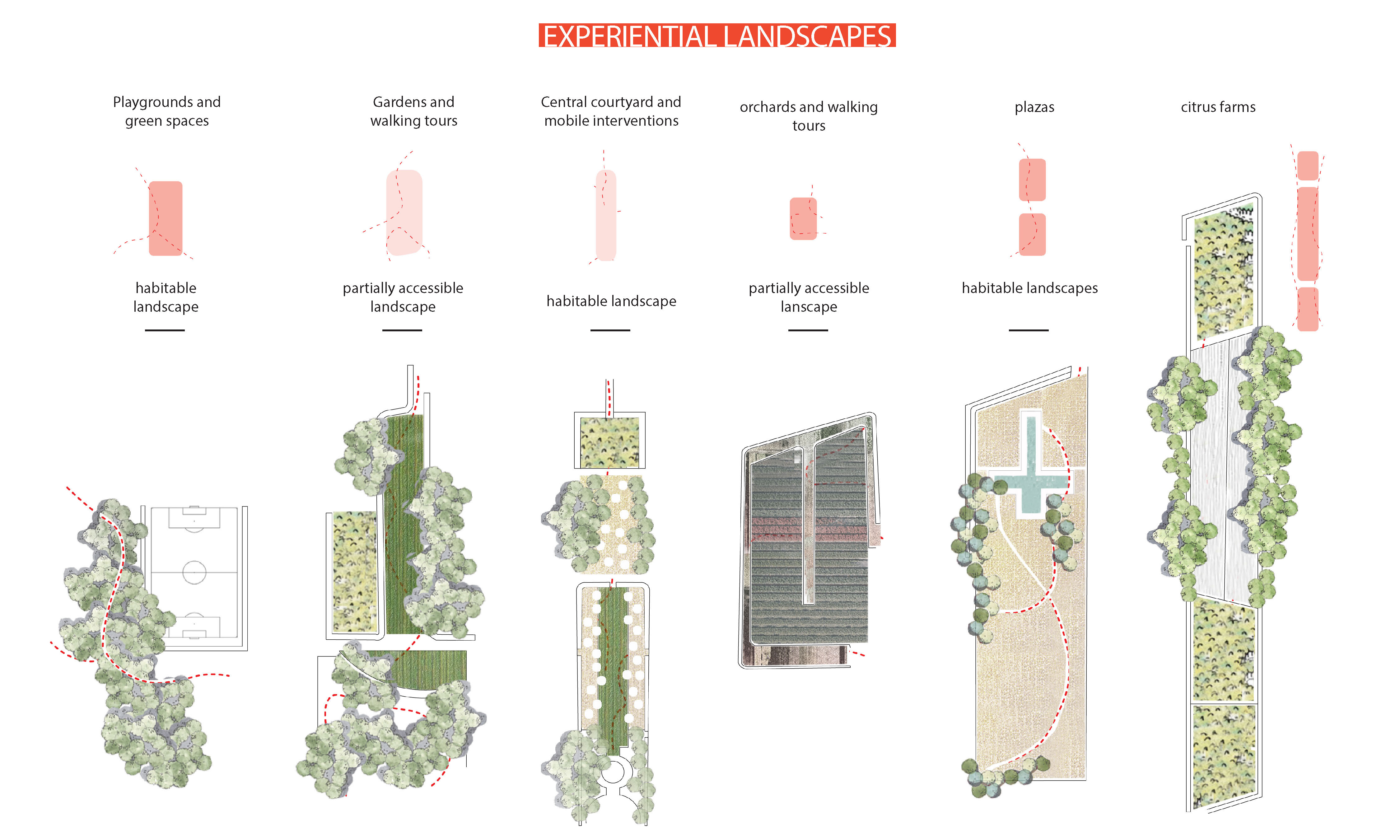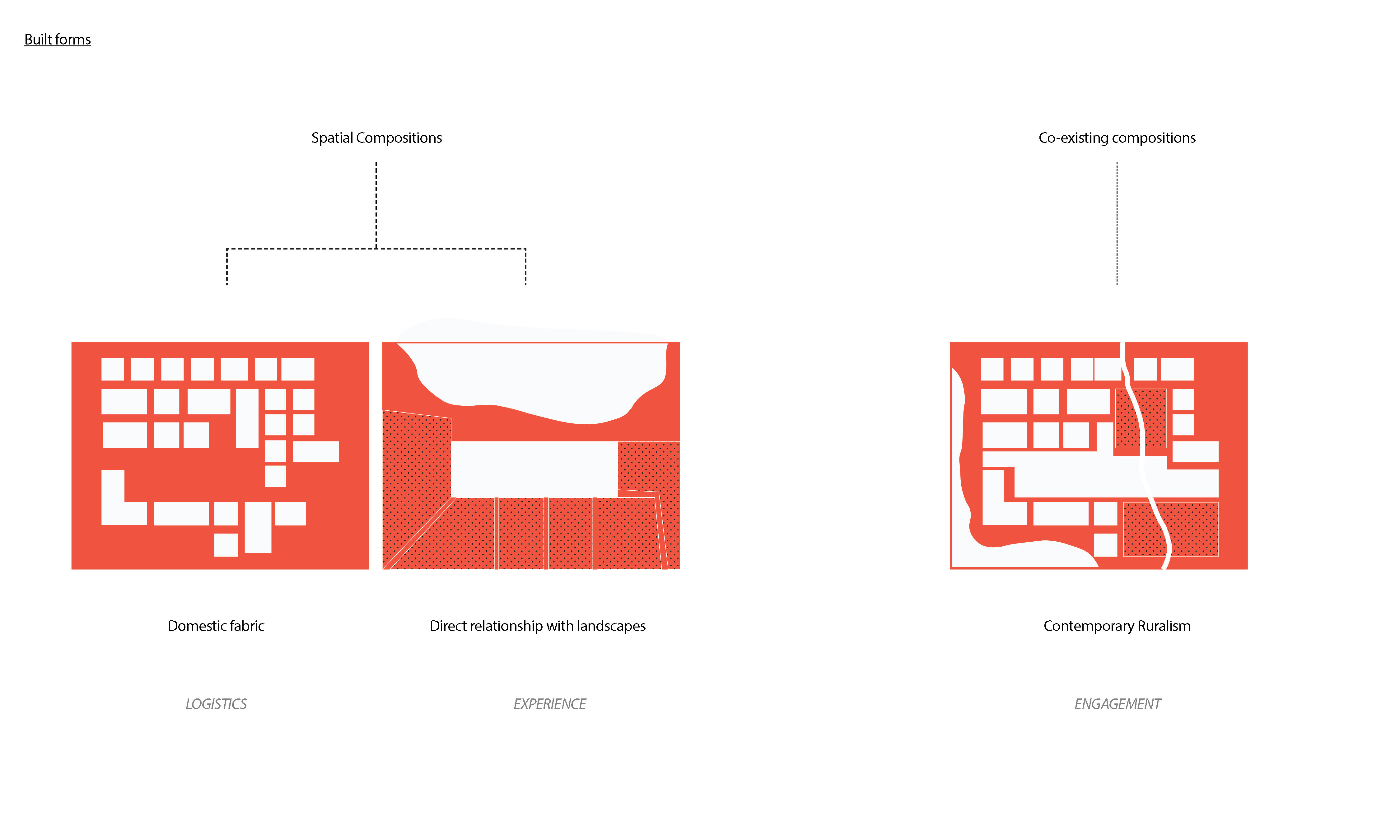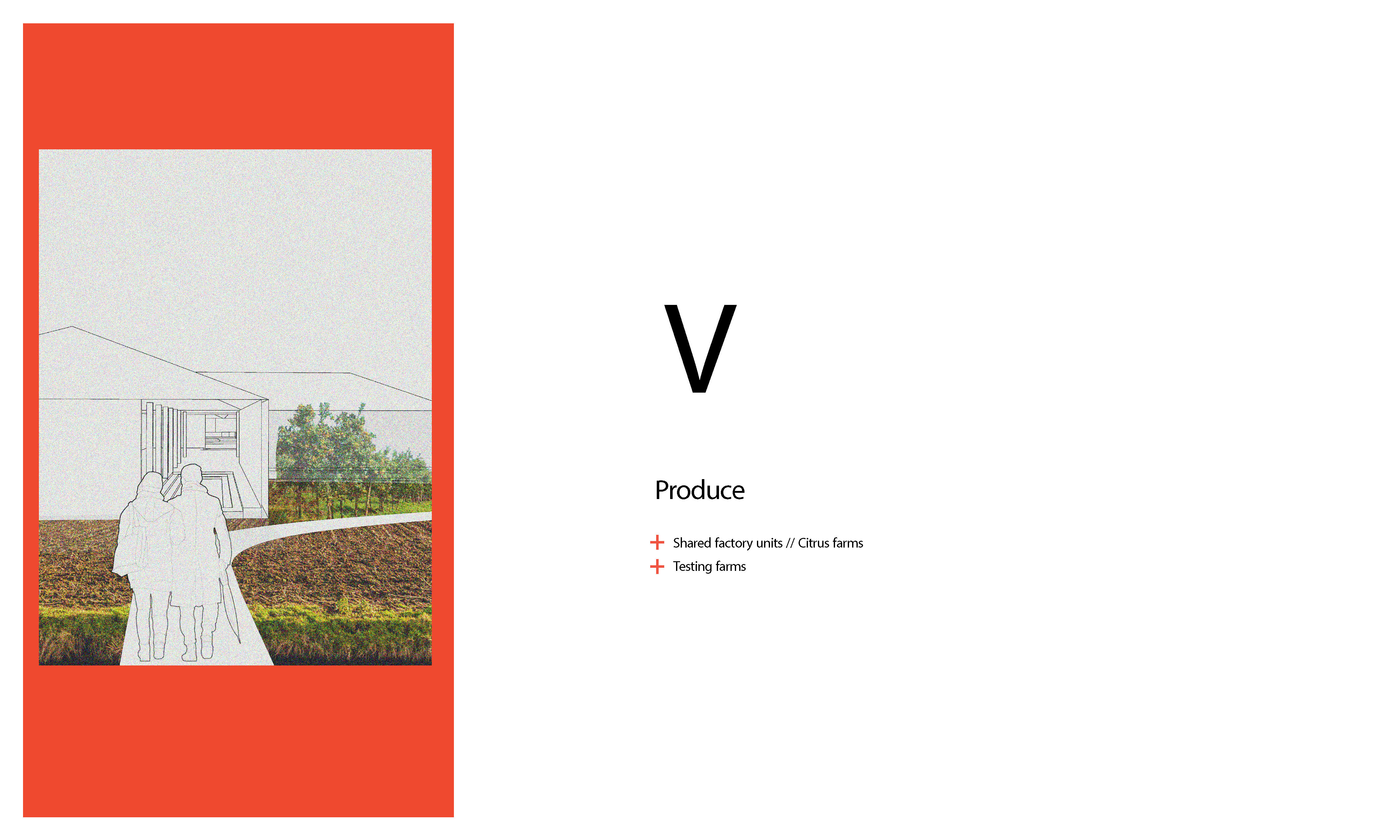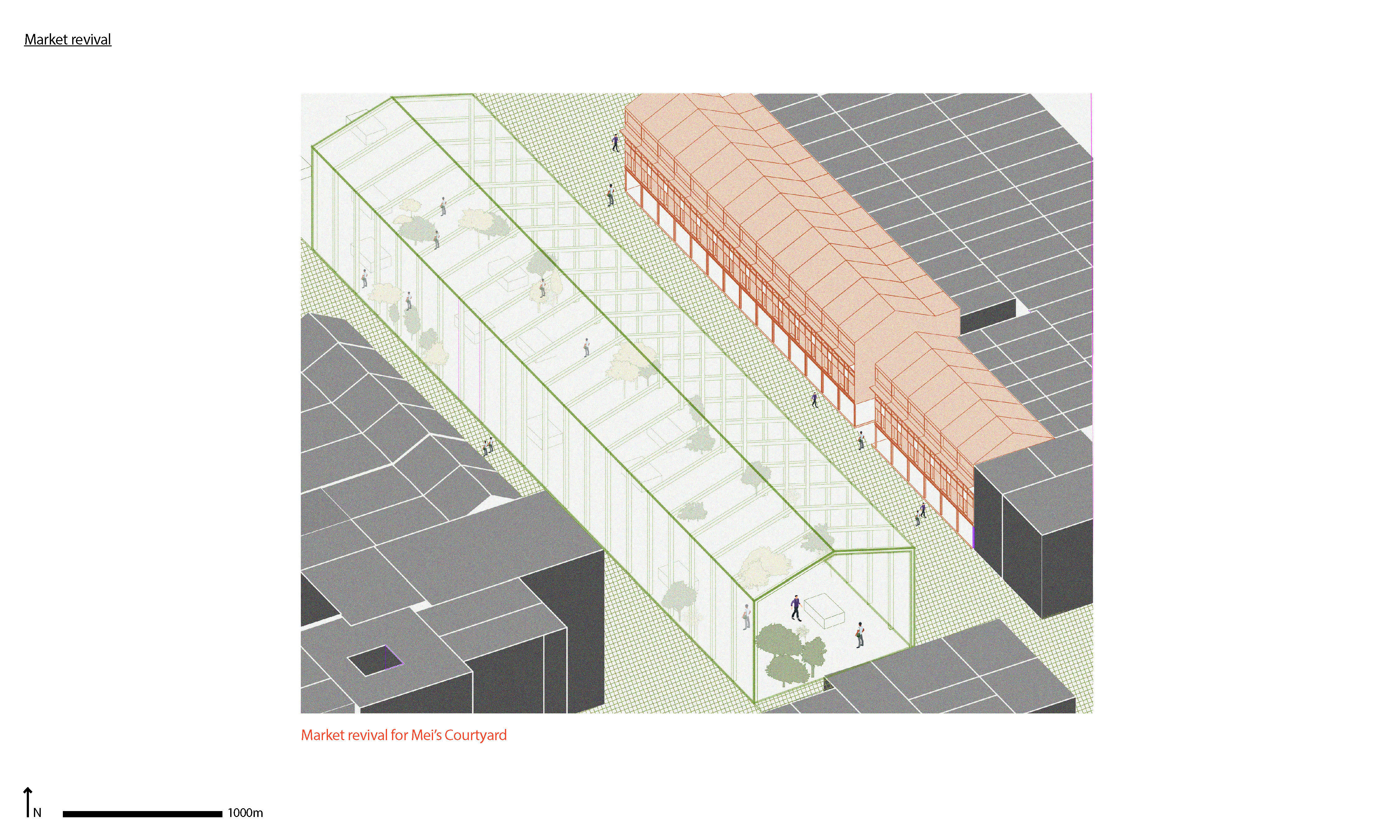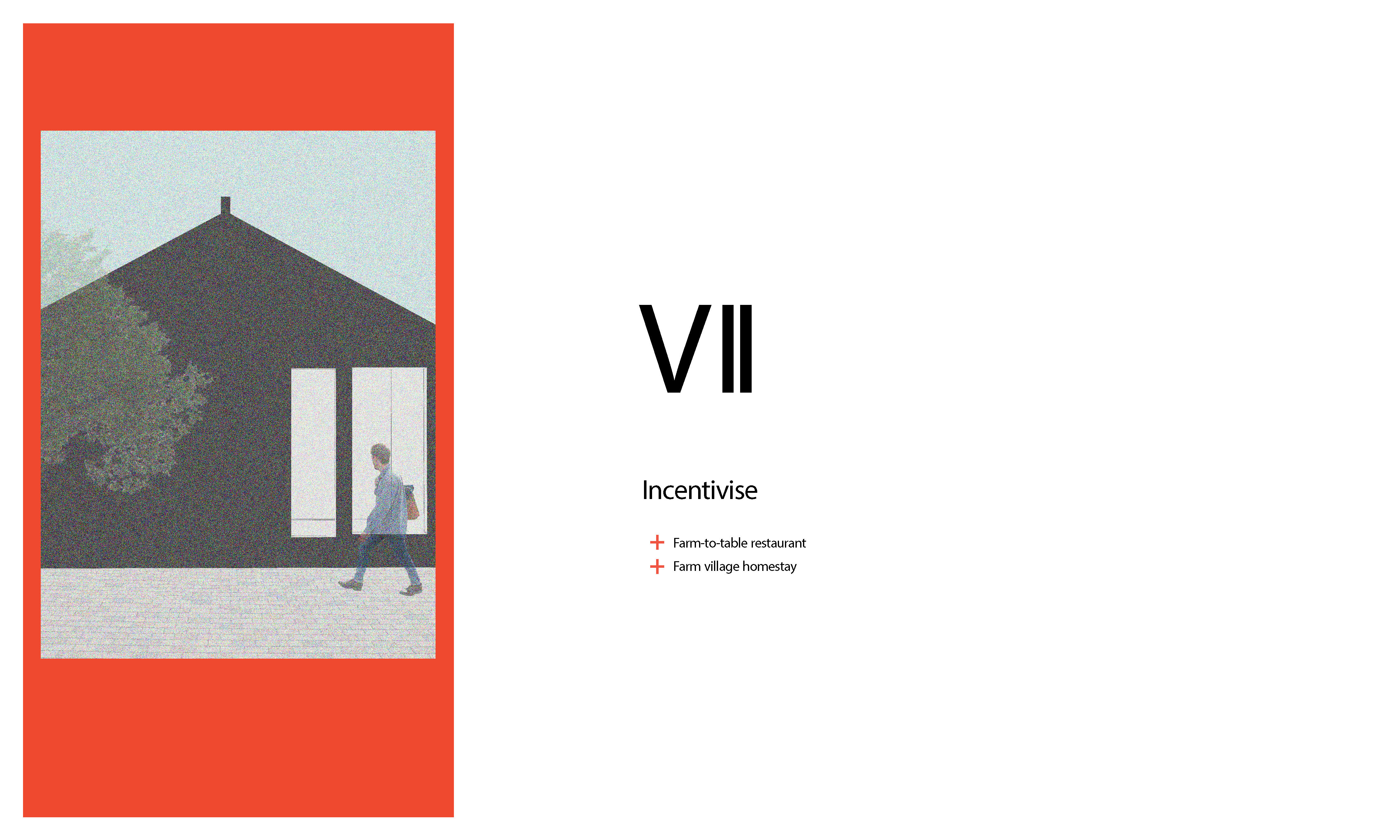 ---
Intangible Reciprocity

Craig Borkenhagen & Yaxi Liu
The Taishan region has a lengthy and robust history of cultural exchange, or reciprocity, that can be seen both in it's architectural character and in it's industrial and economic her­itage. While the qualities of the built environment, such as the number of diaolou that still stand today, is quite evident, what has been lost is a key piece of Taishan's economy,­
namely its secondary industry of porcelain and clay production
. Beginning with trade to SE Asia, and quickly moving to the United Kingdom, Portugal, the Middle East, and even the United States, Taishan's ceramics business was a conduit through which notions of culture, heritage, and beauty were exchanged. Our project seeks to rebuild that piece of Taishan's economy and to use it as a means of revitalization for the town of Duanfen. This will be done through a variety of different means, most notably a new winery and pottery­making center situated in the heart of Duanfen.
Territorial Plan


Regional Plan

Fragment Plan


By placing the winery and pottery center in the relative middle of the site, we create a strong node to connect and draw people from Tingjianxu to Haikobu and vice versa. This East West axis becomes the most important transportation route in the site, and is complemented by a North­South axis connecting village in the north to the central node, and on to the industrial area in the south.
The result is a reading of the site as four quadrants delineated by four representative villages and the central node
. These quadrants, while not embodying an explicit separation of functions, will have unique characteristics to draw villagers and tourists to each one.
Vignettes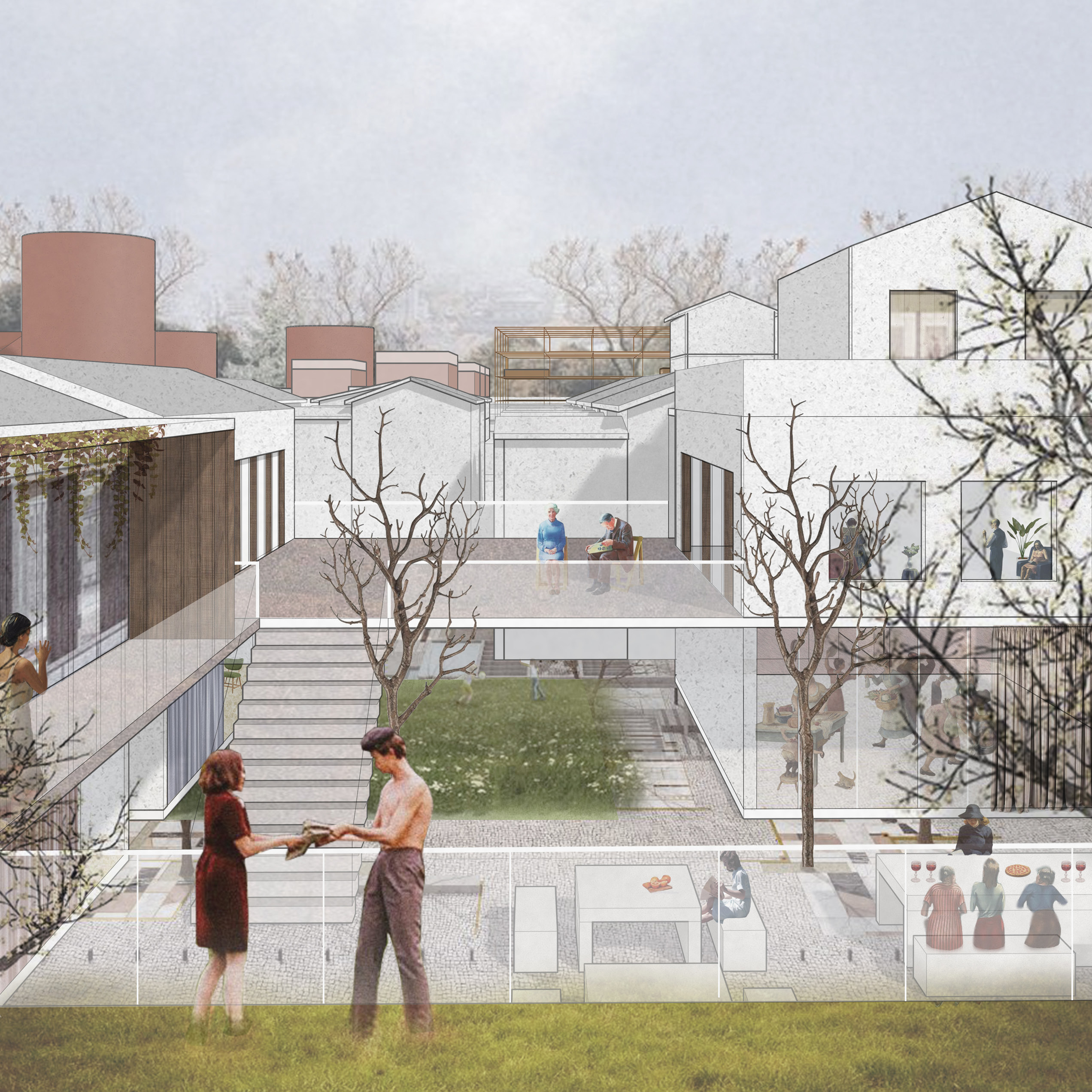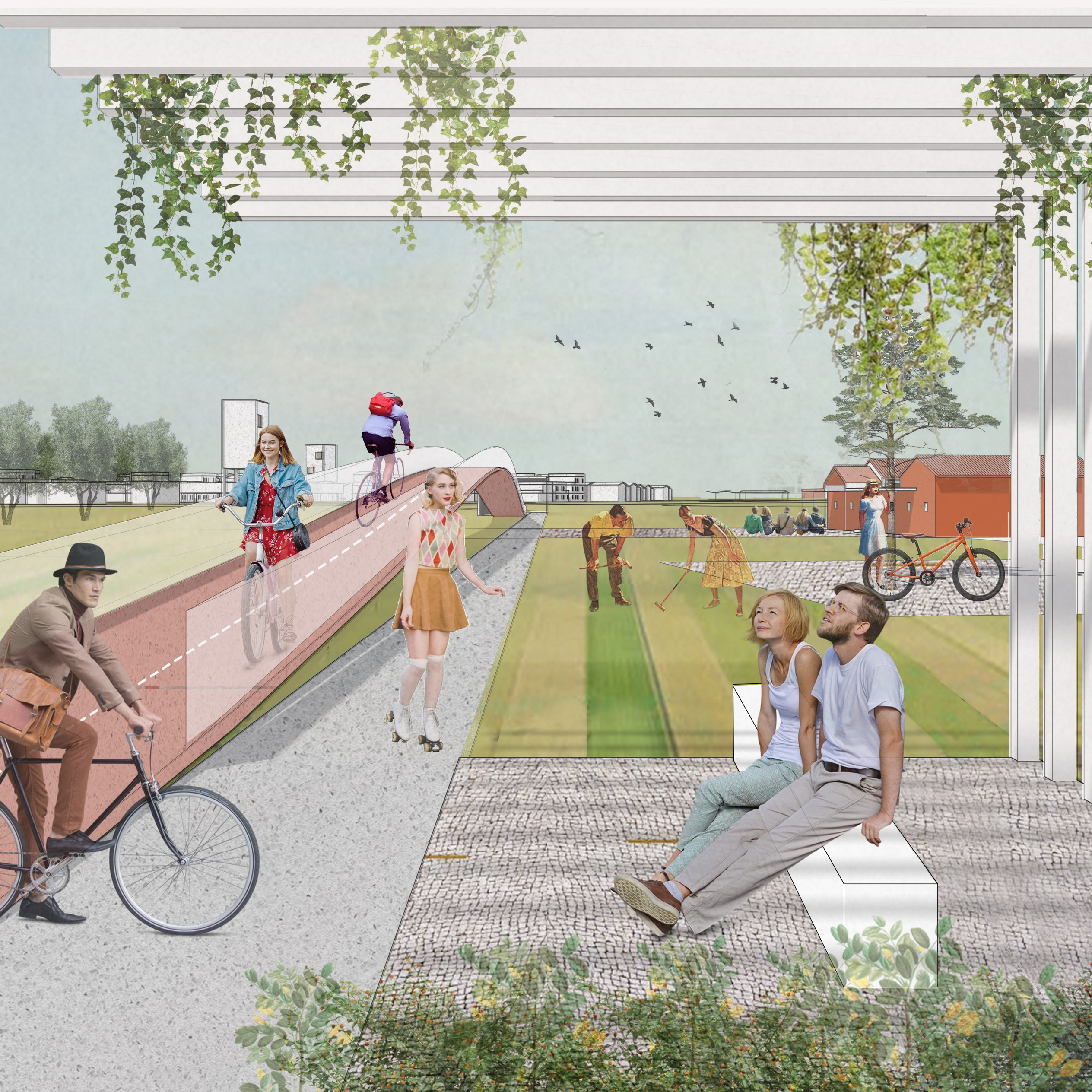 The Duanfen Town Plan shows a desire to consolidate all villages into a more urbanized corridor along the Renguang Provincial Road.
Our scheme suggests an opportunity to instead focus that consolidation into the 4 nodes,
thus creating a cleaner and more robust construction of the site as nodes which will guide the ensuing agricultural development and provide numerous opportunities for visitors to experience the whole site ­ not just one corridor or village. Moving future development in this direction will bring back active engagement in a lost economy for existing villagers, as well as entice local and non­local entrepreneurs to invest in the homestays and participation farms that will be located in each village. It will also reinforce and allow visitors to participate in the important role small villages have played in Taishan's agricultural and ceramics history.
无形互惠

台山的特色建筑、工业和经济遗产中均显示该地区在文化交流和互惠方面有着悠久且繁荣的历史。虽然我们能从当下的建筑和环境中一窥当初的昌盛(例如今天仍然存在的碉楼),但曾经支撑台山经济的瓷器、陶土产业却消融于历史中了。从最初和东南亚的贸易开始,台山陶瓷迅速流传到了英国,葡萄牙,中东甚至美国,台山的陶瓷业成为了交流文化,传承和美感的渠道。我们的项目旨在以重建台山的经济助端芬镇振兴。项目将含括多种手段与措施,我们将着力于位于端芬市中心的新酿酒厂和陶器制作中心。

通过将酿酒厂和陶器中心放置在场地的相对中心,我们希望可以创建一个强大的节点来连接汀江墟和海口埠。这条东西轴线将成为该地点最重要的运输路线,南北轴线则将串联北部村庄、中心节点、和南部工业区。场地将被划分为四个象限,由四个有代表性的村庄和中心节点构成。这些象限没有明确的功能区分,但将各具有不同特色来吸引村民和游客。

端芬镇目前的规划希望将所有村庄整合至仁广省道沿线,形成一个高城市化的都市通廊。不同于其的单一发展区,我们的计划希望能通过四个节点创建一个更清晰,更健全的发展结构。在此框架下的农业生态旅游经济发展将不局限于单一通廊,而是将游客导向多个地区,推动端芬的全域发展。在此方向下的未来发展将帮助现村民脱离经济衰退的困境,并吸引本地和外来企业家投资位不同村庄中的民宿和农场。四象限的结构还可以推动游客参与台山陶瓷复兴、引资振兴在历史中发挥了重要作用生态农业。
Presentation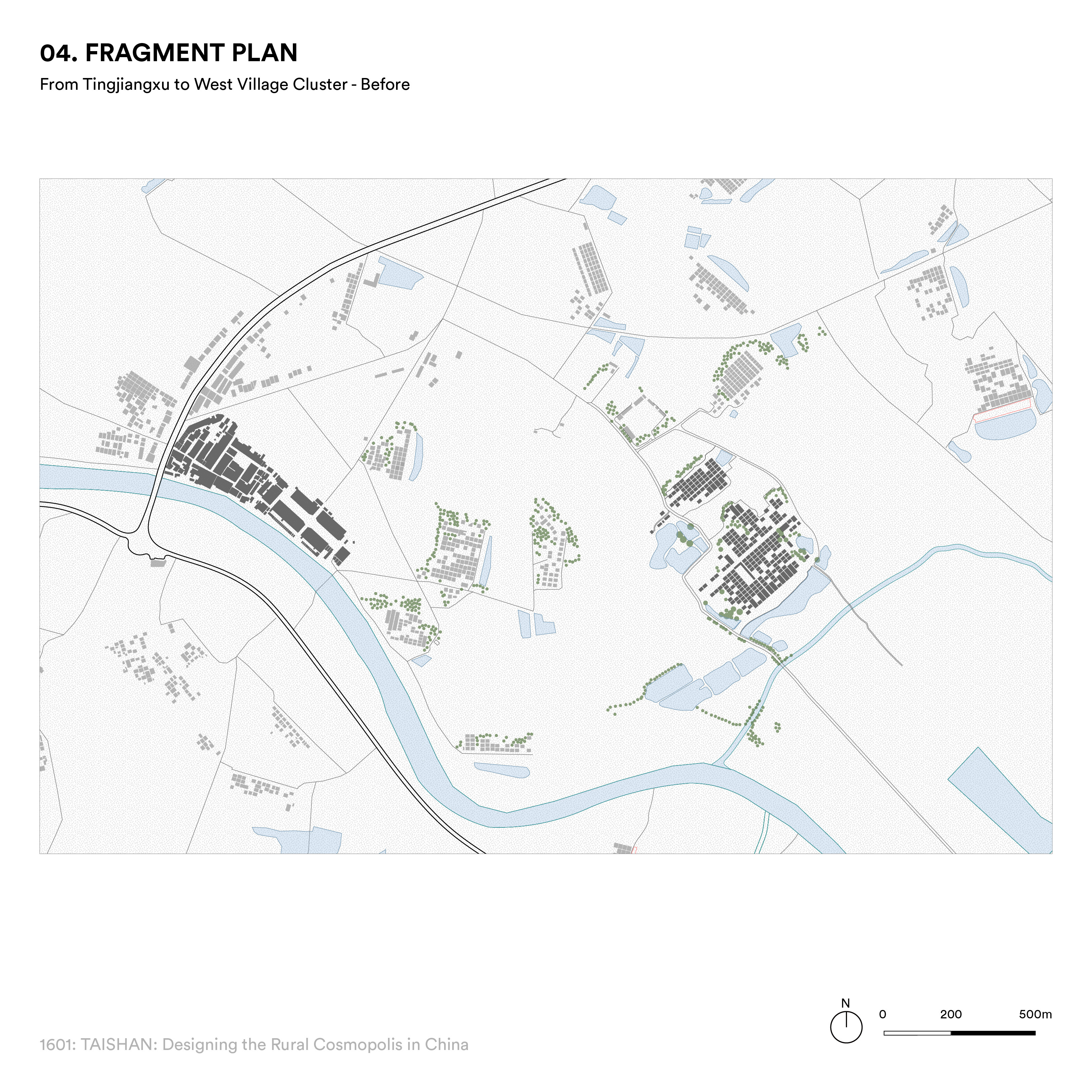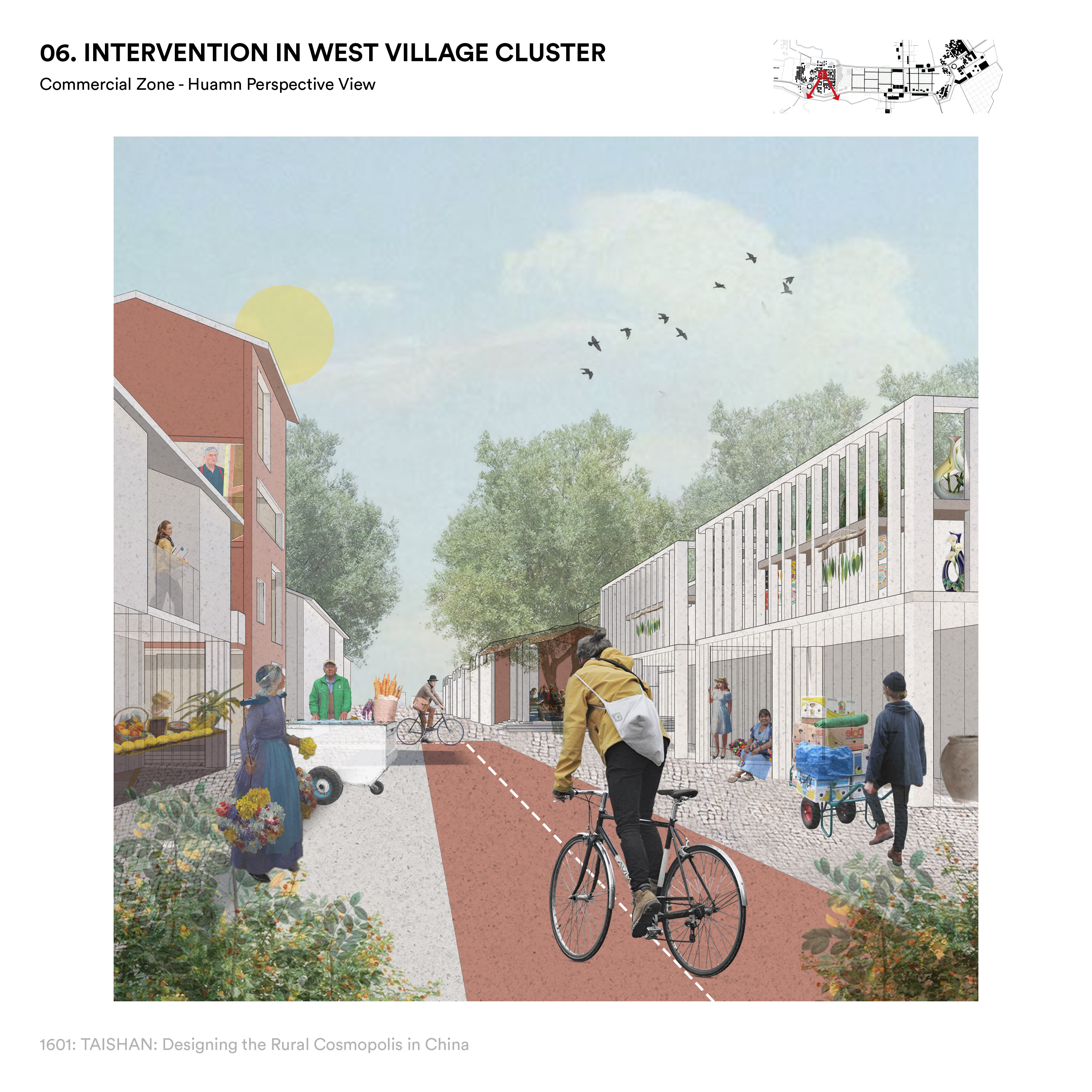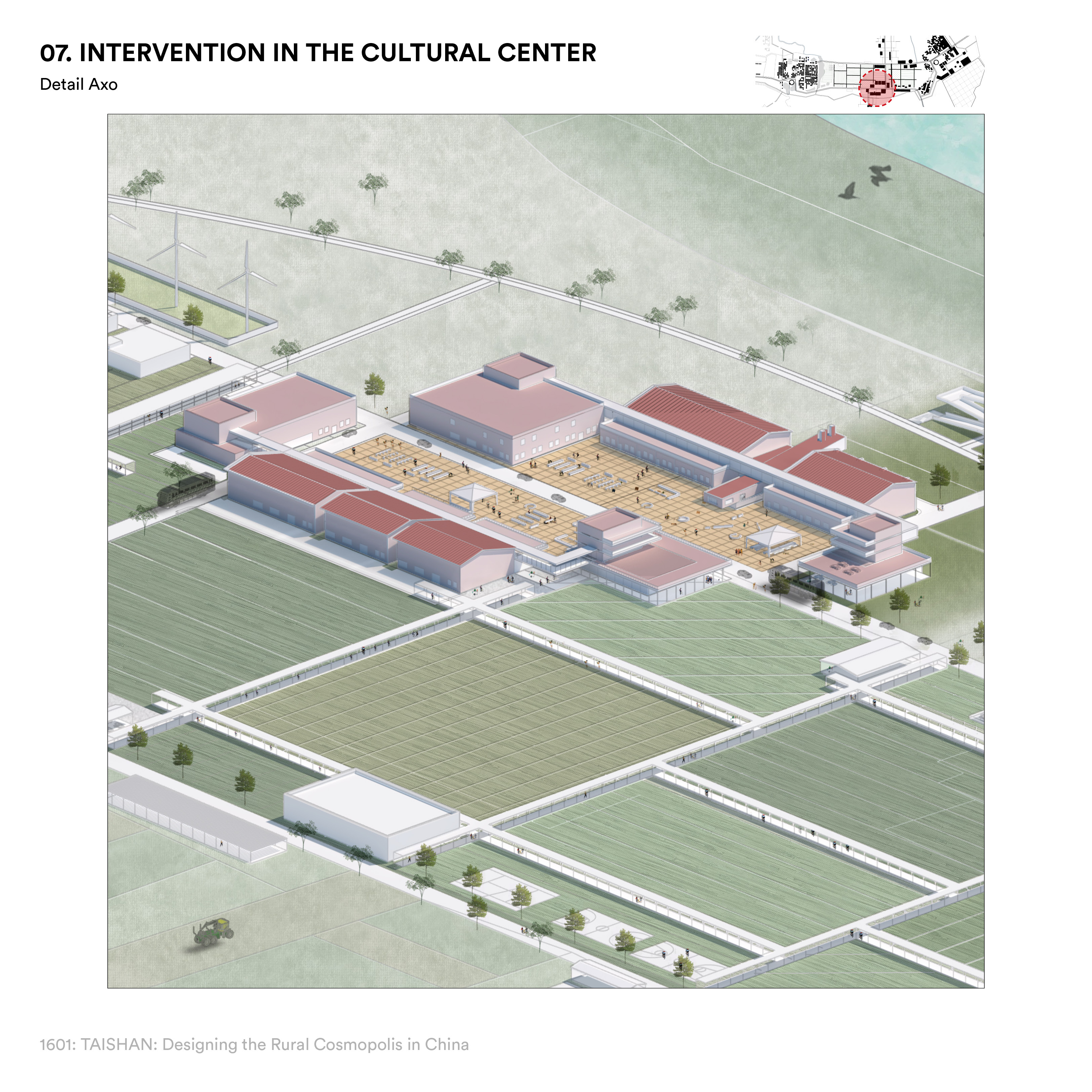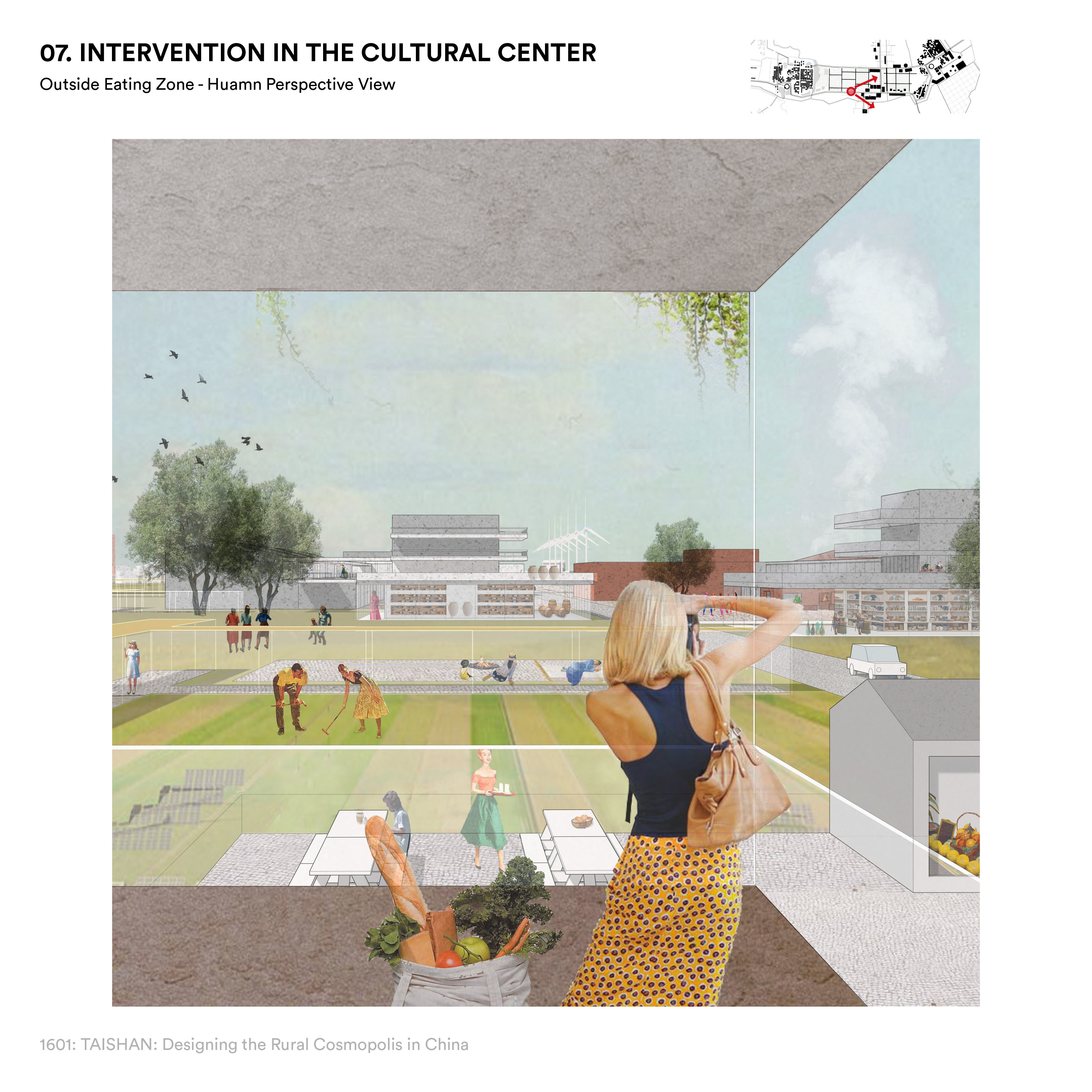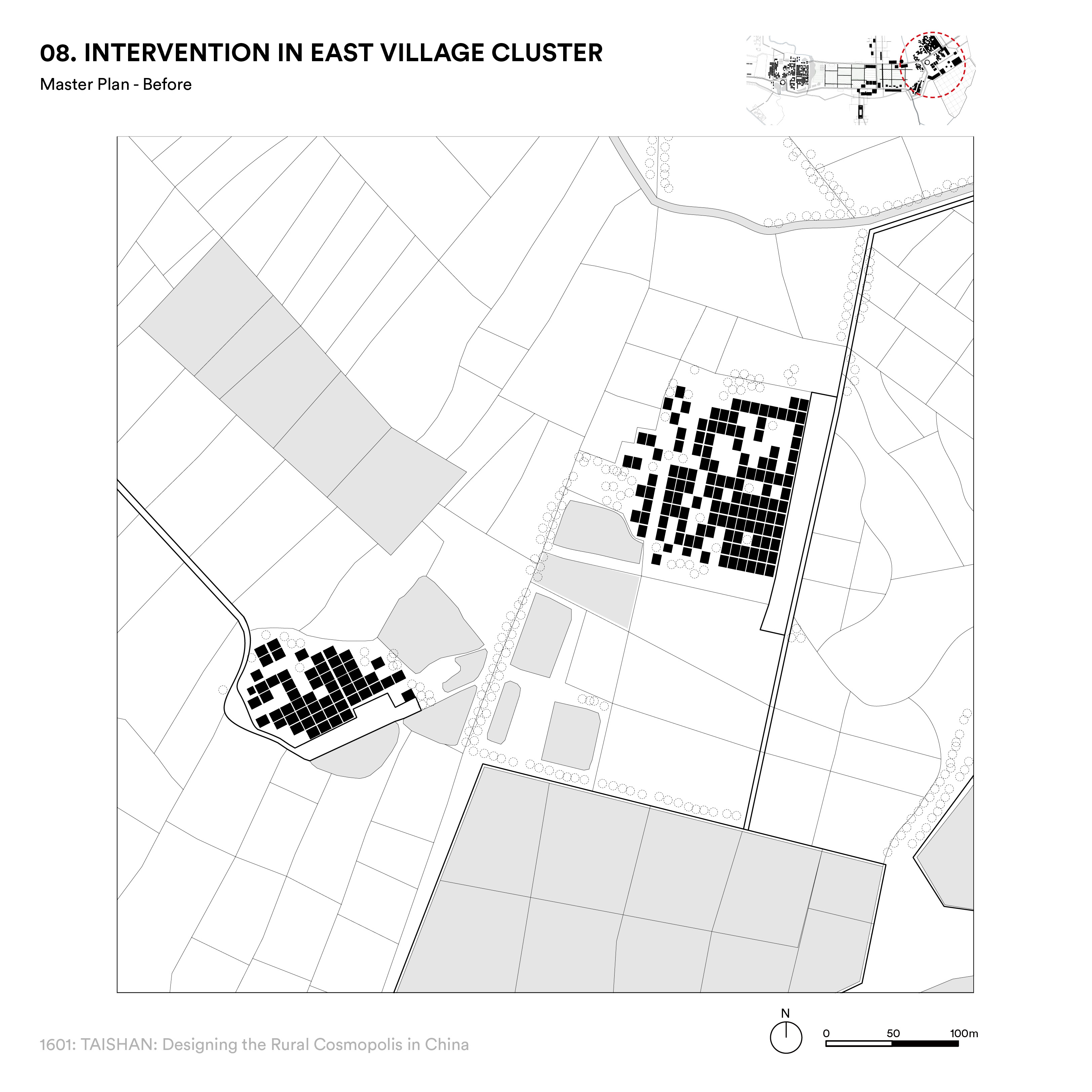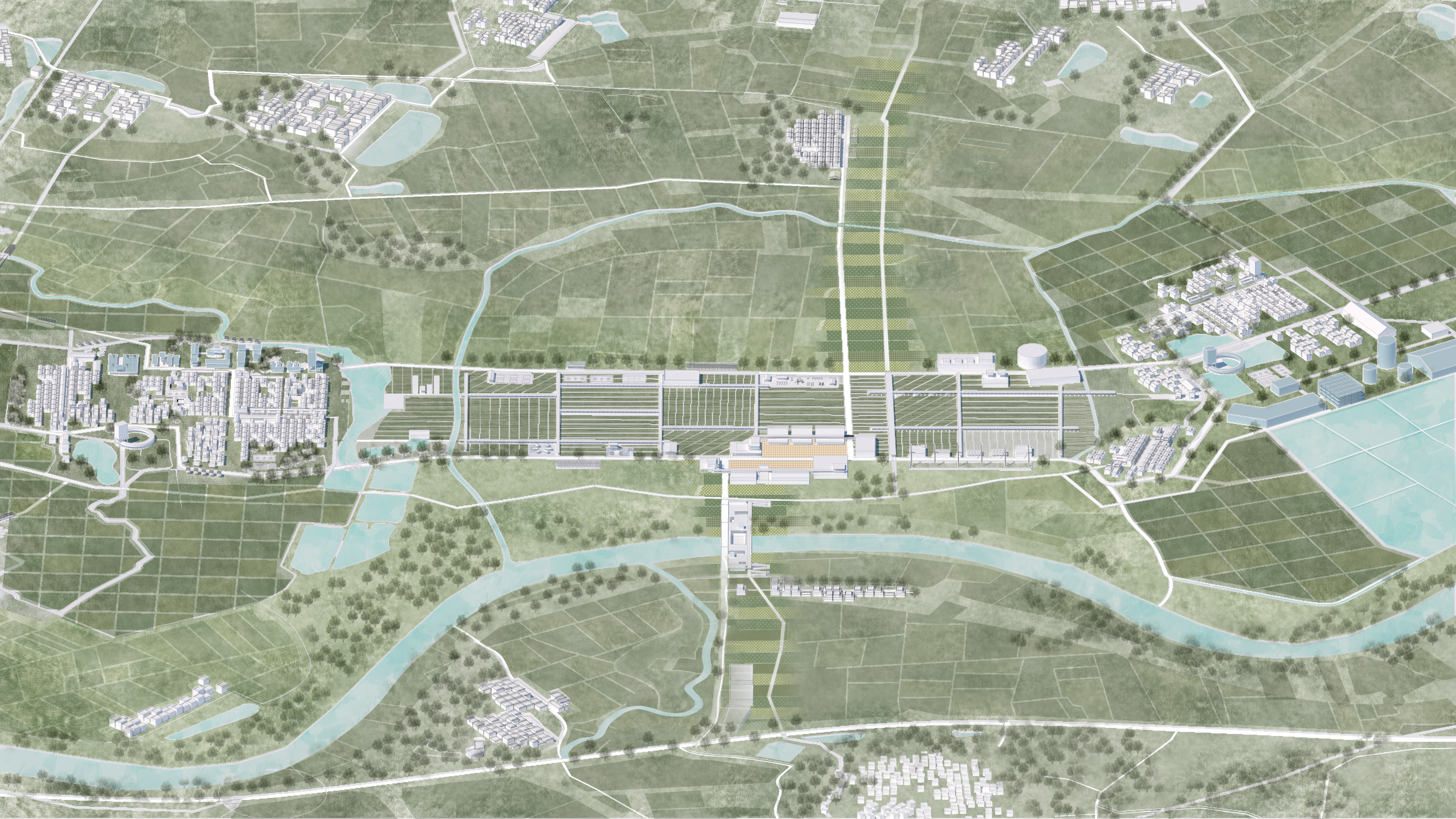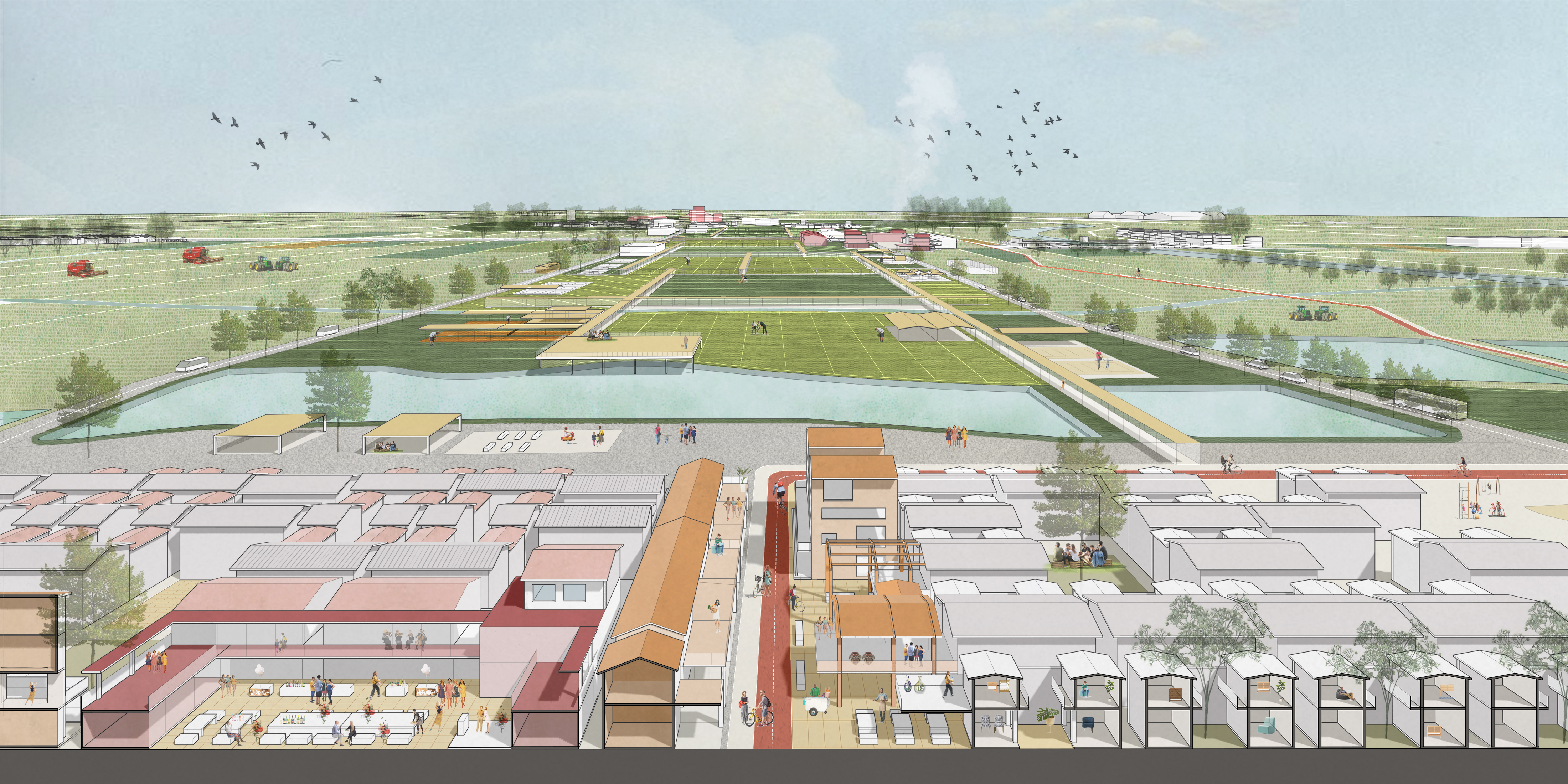 ---
Synergetic Expressions

Vicky Chen, Benjamin Keller, & Kwang Lee
Underinvestment is strangling the Duanfen region. Countryside villages are depopulating and disappearing, in favor of larger metropolitan areas with ample employment opportunities. The area boasts profound historical and cultural capital, but negligence has deteriorated these assets to the point of erasure. The verdant landscape is a victim of aggressive subsistence farming and environmental contamination. The consequence of these processes is the fraying of a once thriving community fabric that found vitality in the practices of traditional village living.
To stabilize the decline, sufficient incentive must be created to retain and begin to attract the demographic we have termed the missing middle— working adults aged 20 to 50.
These are residents, emigrants to larger cities, and overseas Chinese people around the world who no longer see a viable future for them in Duanfen, many who have the additional responsibility of children and parents to care for.
Regional Plan

Fragment

Invtervention

Job creation, while entirely indispensable, will not provide the solutions alone. Investment in infrastructure, health and educational facilities, public space, and even leisure amenities underlay a community that can truly sustain itself. With the goal of providing a standard of living coequal with an urban equivalent,
we suggest a model for a rural-urban arbitration that does not coerce the village to become megolopolis,
but instead embraces the eccentricities of both settings. Tourism is used as a precipitating driver. Drawing on distinctive architectural vernacular, resplendent agricultural fields, and a powerful collective history, we explore the junctures of the inhabitant and visitor experiences. Cognizant that a desire to emphasize the bucolic can devolve into trivializing indigenous populations, we ground our approach in a
community centered process
, powered by an assessment survey that amplifies local voices. The result is appealing placemaking that attracts visitors to its sights and sounds, yet is rational and contemporary in its progression of form and utility.
Vignettes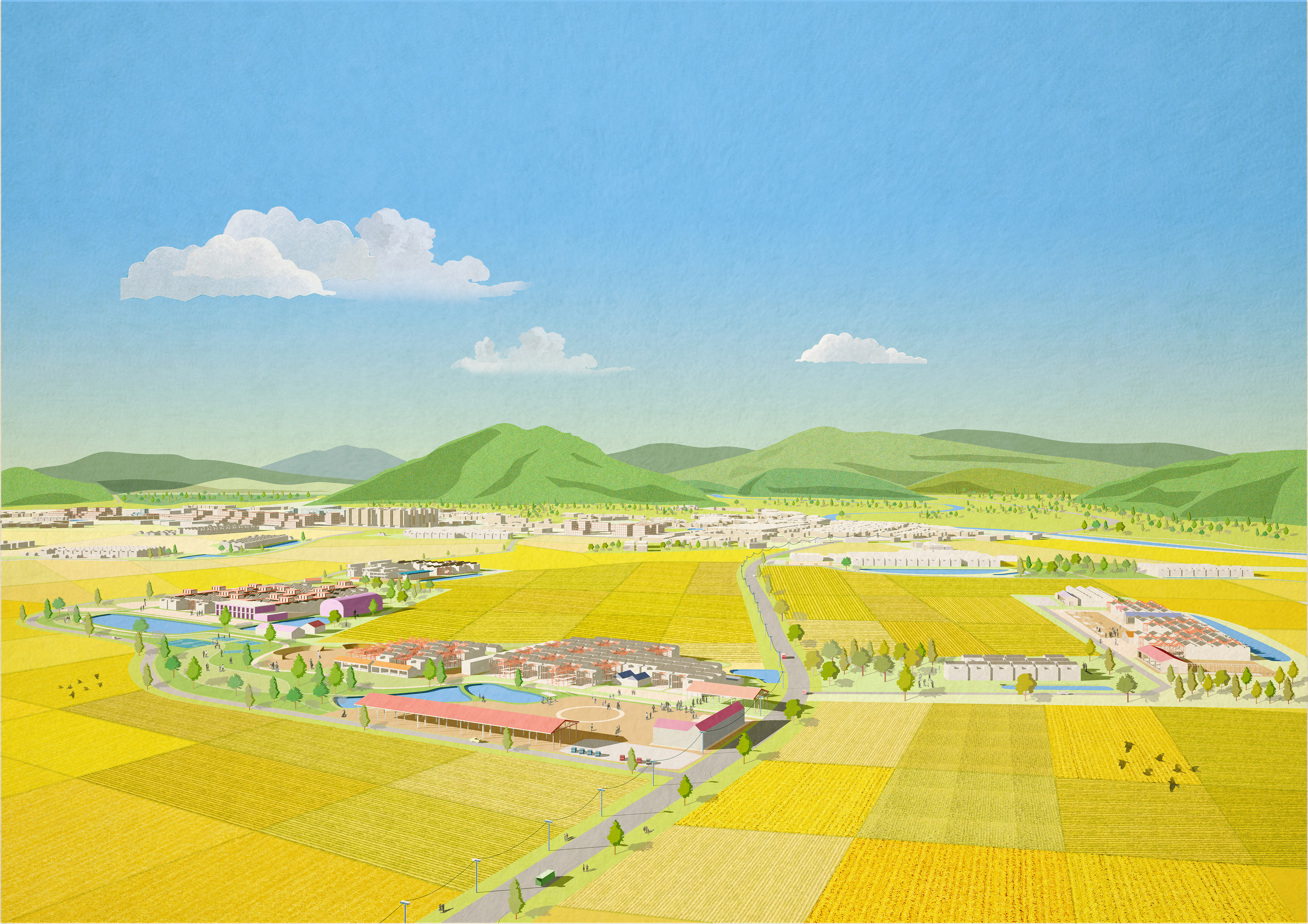 Sufficiency for a villager's immediate needs is achieved through clustering; of services, of infrastructure, and of productivity. Nevertheless, the urban and the rural remain deeply intertwined, allowing the routines of daily life to flow freely between them. Public transportation augments a network of trails, roads and paths to facilitate comprehensive access. Throughout, across all scales, attention is devoted to developing environments that promote health, wellbeing, and flourishing for every participant.



共生共长

投资不足和人口减少是端芬地区面临的主要问题。农村人口大量涌向拥有大量就业机会的大都市,本地人口日益凋零。端芬拥有深厚的历史和文化资本,但是过去几十年的中对于这些资产的忽视这些资产渐渐衰败,几近消融。原本青山绿水的生态也受到了侵略性自给农业和环境污染的威胁。这些问题导致了曾经蓬勃发展的传统乡村生活失去了生机。为了减缓端芬的衰落势头,该地区必须创造足够的诱因来吸引年龄在20至50岁之间的劳动力--这些人正在移民到较大的城市由于他们在端芬缺少发展机会。

增加就业机会仅仅是一个解决方案中的一小环。我们还需要着力于基础设施,医疗和教育设施,公共场所甚至休闲设施的建设,方可实现真正的可持续性发展。我们建议采用一种城乡融合的模型推动乡村发展,为当地提供与城市同等的生活水平。该模型不强迫村庄成为大都市,而是融合两种环境的优点,因地制宜的提出发展计划。旅游业是该乡村振兴计划中的催化剂。我们希望借助端芬独特的建筑语言和深厚的社群历史,构建居民和旅客生活体验中的关键时刻。我们意识到过分强调田园风光和旅游会使发展脱离本土语言,演变出的乡村往往千篇一律缺少活力。我们认为地区的发展应基于当地社群的现状和需求,因此我们进行了一系列的村落评估,调查当地现存能量,寻找本土动力,帮助其社群发声。由该流程导出的成果将不仅仅能维护当地的风土人情、吸引游客和投资,且其形式和发展进程会具有理性和实践性。

在我们的开发模型中,促进每个参与者身心灵的安康是我们的第一宗旨。我们将通过聚落的形式满足乡民的需求,提供基础服务、基本发展框架和生产流线。城市和农村将有机的交织在一起,伴随着日常生活人们在其间自由的流动。通过加强步道,自行车道,公共巴士,水面线路等运输方式,我们全面的提升了交通网络,增加了全域可达性。
Presentation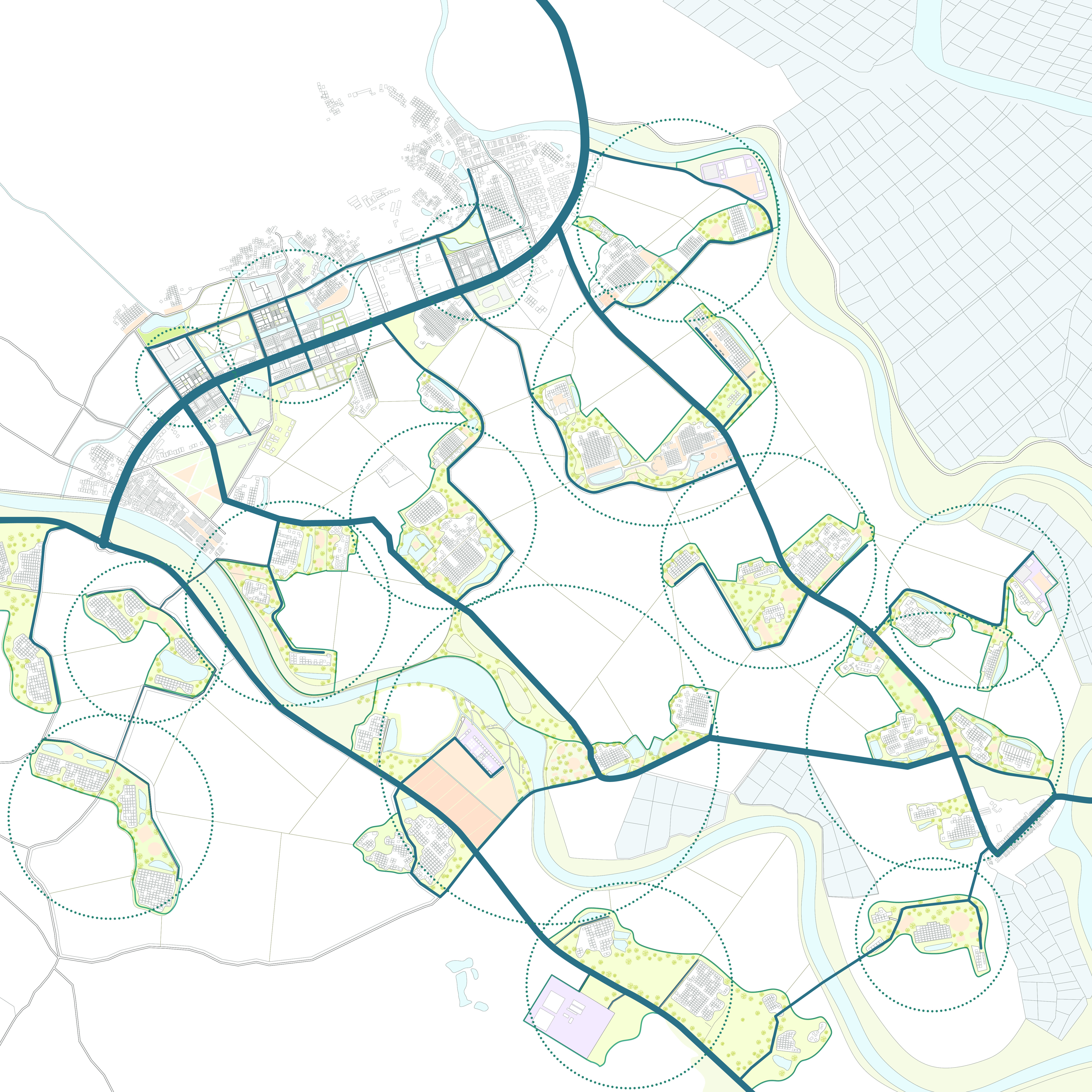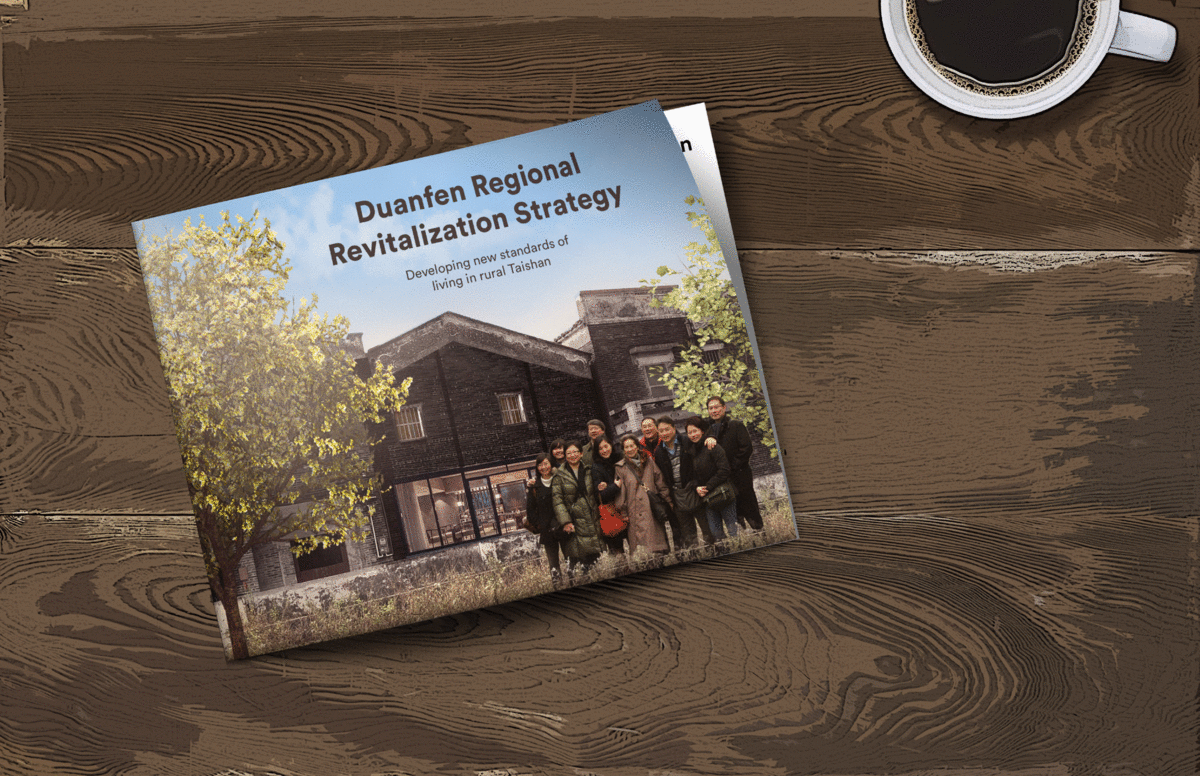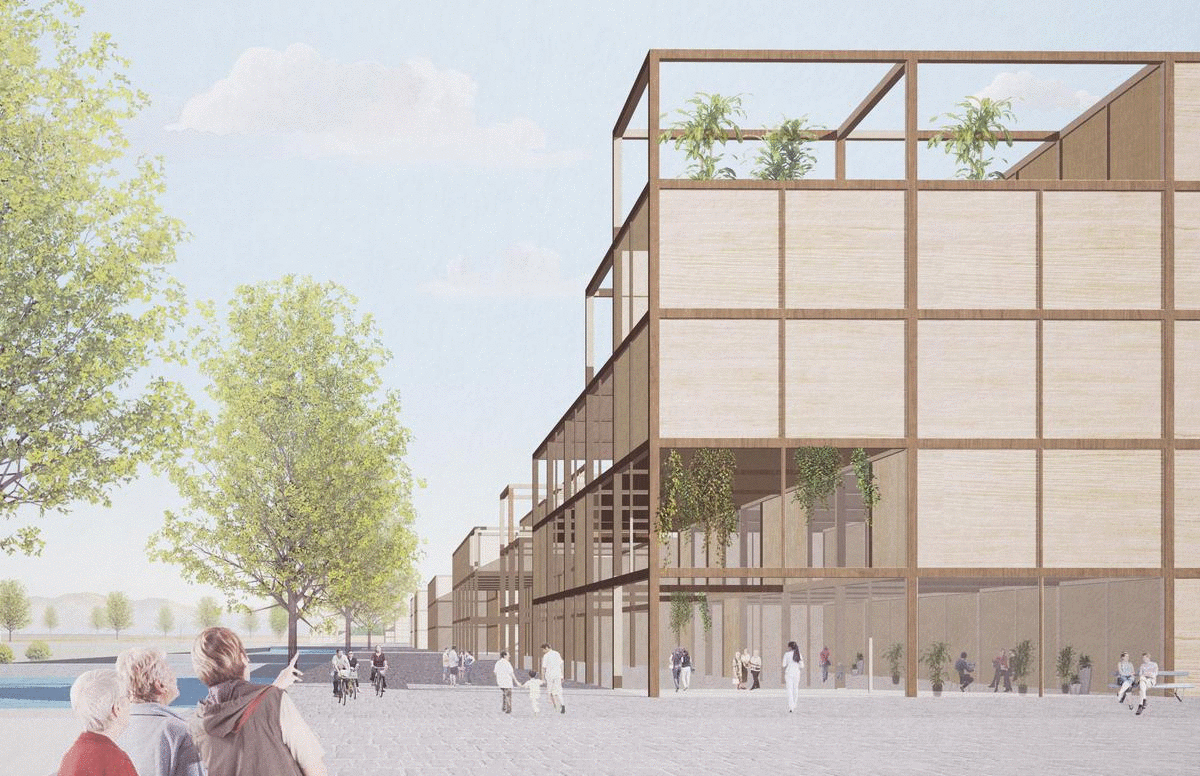 ---
Vernacular Ingredients

Shizheng Geng, Zoe Wu, & Hua Zheng
The title of our proposal is Vernacular Ingredients As Urban Components. We asked ourselves a critical question:
Can we merge rural villages into a part of the urban system without vastly disturbing its forms, pastoral landscape, and intangible traditions?
With the modernization and industrialization process, the town's primary economic driver shifts from local vernacular production to company-owned production introduced from elsewhere. It led the rural development into a dilemma: When the area is transforming into urbanities, it is losing its rustic soul. How can modern areas still be rural? It seems a part is missing in the process to re-link intangible heritage under the trend of urbanization.
Regional Plan

Fragment Plan


Intervention


Therefore we look into the Taishan Record (published in 1897) to seek a forgotten legacy as well as potential vernacular products as an economic driver that has been forgotten in the urbanization process.
We found a group of ingredients that surrounds incense making and also can be used for making Chinese medicine.
Incense making represents the clanship worshiping tradition that has been long driving oversea Taishan Chinese to contribute their fortune and constructed the Taishan image today. Chinese medicine represents the vernacular wisdom of utilizing and exploring the good of nature.
Vignettes

Those ingredients have the potential to be developed into new industrial chains that enhance the local business and become the economic driver of our scheme and, in the meantime to invite local stakeholders and newcomers to work together. Here we take
Chinese Sweetgum
as a significant economic driver because it's productive and multi-functional, which also suited to the soil quality. It will also maintain the inner connection between production and rural cultures like the farmers' market system, festivals, worship activities, and become the driver for urbanization without losing its vernacular core.
本土成分

我们项目的题目是本土成分作为城市元素。本次项目,我们想要探讨一个批判性的问题:是否能在不干扰乡村的形式,田园风光,和非物质传统的前提下,将其融合为城市体系的一部分?

随着现代化和工业化进程的发展,台山的主要经济驱动力从本土产品的生产变成了外来引进公司的加工生产。这导致了农村的发展陷入两难境地:乡村在城市化中渐渐失去了它质朴的灵魂。如何在乡村现代化的进程中保持其风土人情?乡村的非物质文化遗产与现代化的连接是乡村城镇化被忽视了的重要环节。

因此,我们研究了1897年出版的台山志,旨在探寻台山特色,挖掘有潜力的,可以驱动本土经济的特色产品。我们找到了一系列制香,也可入药的传统原材料。熏香是宗族文化的表现之一,宗族文化长期以来驱使海外的台山华人回报家乡,并且在海外树立了如今的台山华人之乡形象。香可入药,熏香也揭示了中医药学中对于自然的崇尚和珍惜之情。

我们认为这些材料的开发生产不仅仅能驱动当地经济,由此形成的产业链还可以促成本土受益方和乡村新移民间的合作。我们选中了枫香树作为我们的主要产品。台山本地水土非常适宜枫香树的生长,枫香树不仅能够提供多样化的产品,它在台山的文化地位还将可以连接当地特有的市集,节庆,和宗族文化。我们希望借以枫香树产业发展推动台山经济发展的同时保护并发扬台山乡村风土人情。
Presentation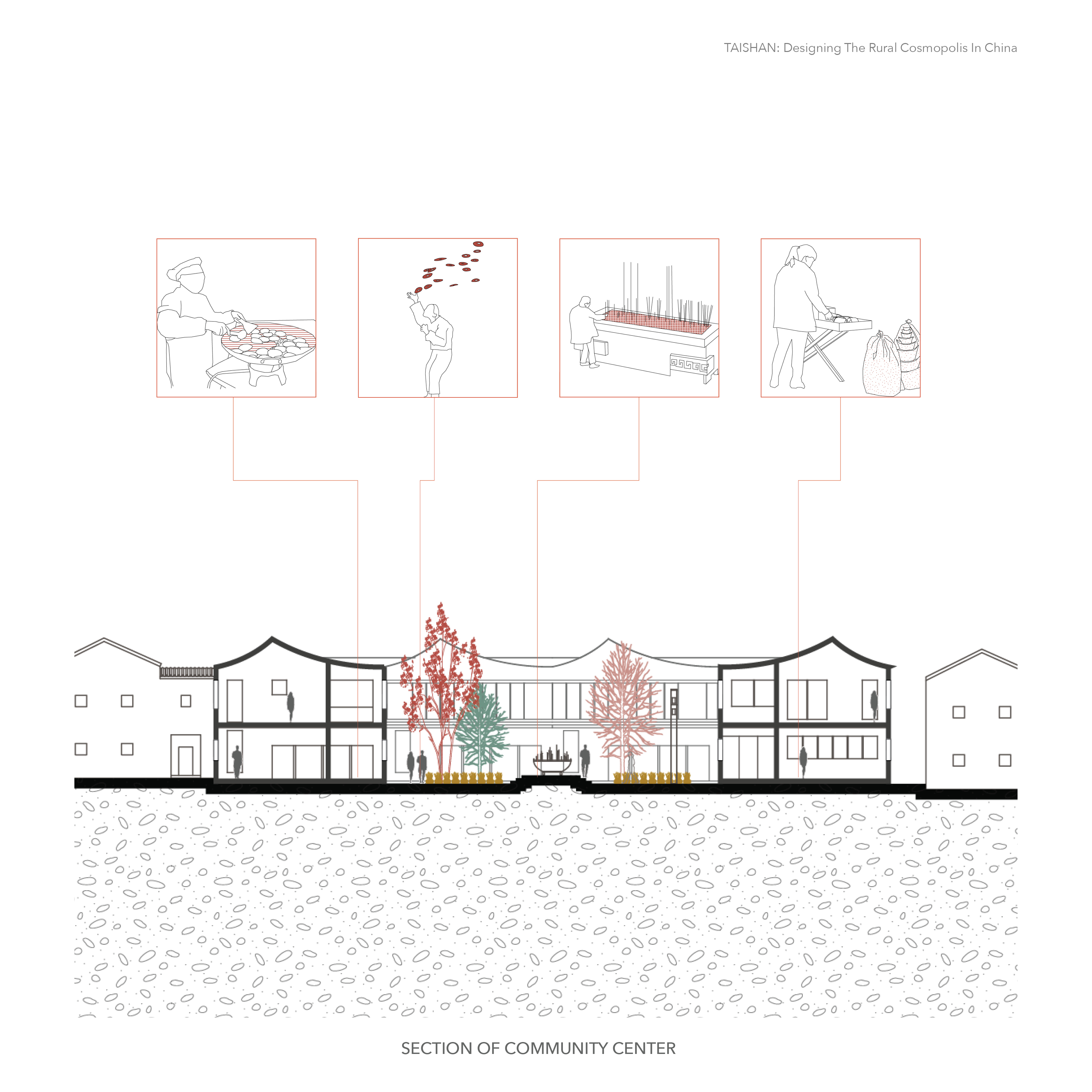 ---