Vernacular Ingredients

Shizheng Geng, Zoe Wu, & Hua Zheng
The title of our proposal is Vernacular Ingredients As Urban Components. We asked ourselves a critical question:
Can we merge rural villages into a part of the urban system without vastly disturbing its forms, pastoral landscape, and intangible traditions?
With the modernization and industrialization process, the town's primary economic driver shifts from local vernacular production to company-owned production introduced from elsewhere. It led the rural development into a dilemma: When the area is transforming into urbanities, it is losing its rustic soul. How can modern areas still be rural? It seems a part is missing in the process to re-link intangible heritage under the trend of urbanization.
Regional Plan

Fragment Plan


Intervention


Therefore we look into the Taishan Record (published in 1897) to seek a forgotten legacy as well as potential vernacular products as an economic driver that has been forgotten in the urbanization process.
We found a group of ingredients that surrounds incense making and also can be used for making Chinese medicine.
Incense making represents the clanship worshiping tradition that has been long driving oversea Taishan Chinese to contribute their fortune and constructed the Taishan image today. Chinese medicine represents the vernacular wisdom of utilizing and exploring the good of nature.
Vignettes

Those ingredients have the potential to be developed into new industrial chains that enhance the local business and become the economic driver of our scheme and, in the meantime to invite local stakeholders and newcomers to work together. Here we take
Chinese Sweetgum
as a significant economic driver because it's productive and multi-functional, which also suited to the soil quality. It will also maintain the inner connection between production and rural cultures like the farmers' market system, festivals, worship activities, and become the driver for urbanization without losing its vernacular core.
本土成分

我们项目的题目是本土成分作为城市元素。本次项目,我们想要探讨一个批判性的问题:是否能在不干扰乡村的形式,田园风光,和非物质传统的前提下,将其融合为城市体系的一部分?

随着现代化和工业化进程的发展,台山的主要经济驱动力从本土产品的生产变成了外来引进公司的加工生产。这导致了农村的发展陷入两难境地:乡村在城市化中渐渐失去了它质朴的灵魂。如何在乡村现代化的进程中保持其风土人情?乡村的非物质文化遗产与现代化的连接是乡村城镇化被忽视了的重要环节。

因此,我们研究了1897年出版的台山志,旨在探寻台山特色,挖掘有潜力的,可以驱动本土经济的特色产品。我们找到了一系列制香,也可入药的传统原材料。熏香是宗族文化的表现之一,宗族文化长期以来驱使海外的台山华人回报家乡,并且在海外树立了如今的台山华人之乡形象。香可入药,熏香也揭示了中医药学中对于自然的崇尚和珍惜之情。

我们认为这些材料的开发生产不仅仅能驱动当地经济,由此形成的产业链还可以促成本土受益方和乡村新移民间的合作。我们选中了枫香树作为我们的主要产品。台山本地水土非常适宜枫香树的生长,枫香树不仅能够提供多样化的产品,它在台山的文化地位还将可以连接当地特有的市集,节庆,和宗族文化。我们希望借以枫香树产业发展推动台山经济发展的同时保护并发扬台山乡村风土人情。
Presentation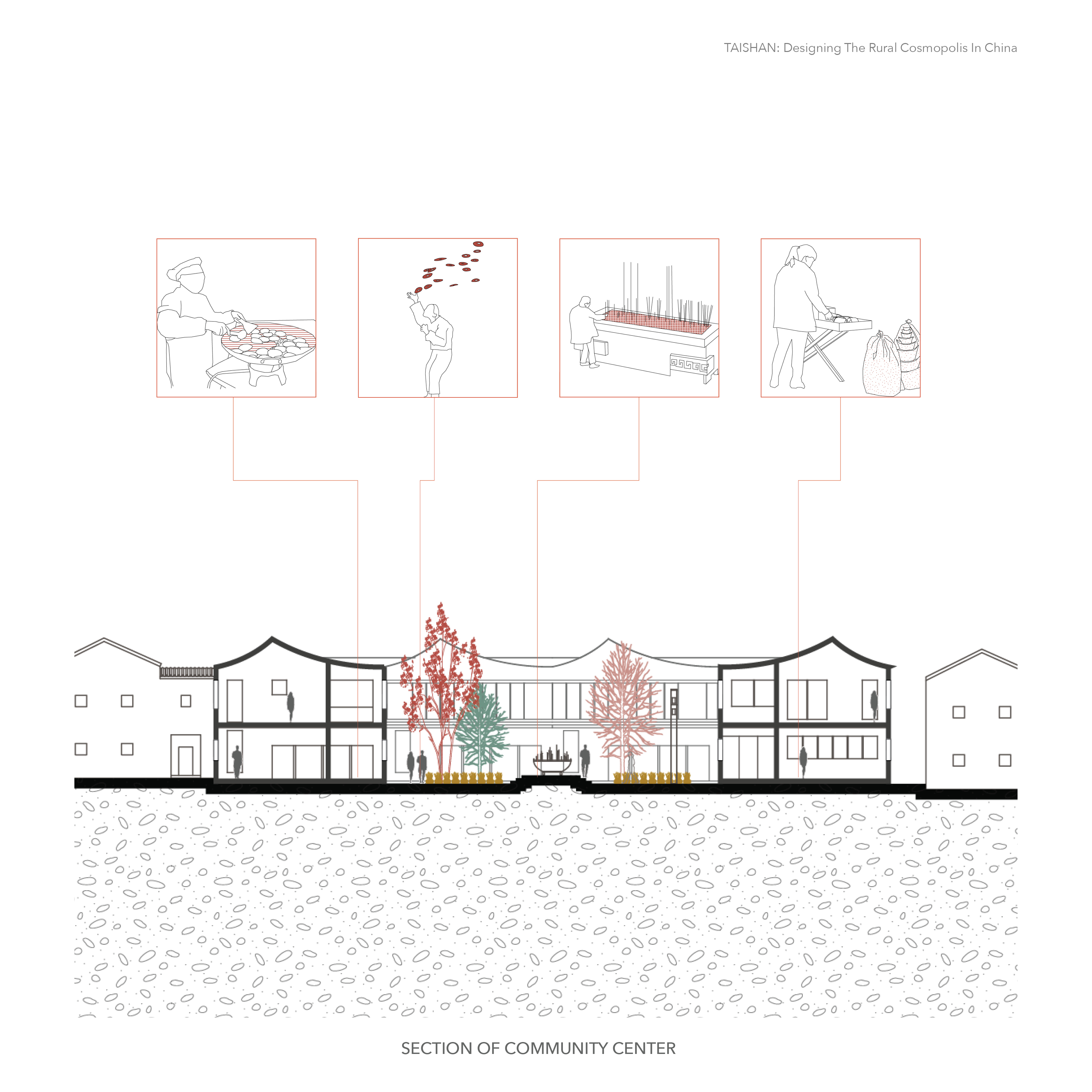 ---