Embracing the Dichotomy

Sungchan Kim, Xijia Zhang, & Shunfan Zheng
In rural areas, agricultural production is a critical part of villager's cultural identity, defining the activities of everyday life. However, often this custom is ignored and forced to be changed in order to urbanize the countryside by various urban policies. Rather taking this totalitarian stance,
we propose a framework that practices everyday life as a catalyst which eventually revitalize the rural area.
Taishan's cultural identity could be understood by two different agricultural lands (traditional rice farming and eel farms) which cover the majority of the area. By taking these two as main drivers, the project seeks the primary agriculture to trickle down to secondary industry and tertiary tourism through next 20 years.
Territorial Plan

Regional Plan

Fragment Plan


In the first phase, the framework suggests a hybridized landscape which is a combination of
rice paddy and fish farm
. According to the approximation of water resource in different sites, the new hybridized landscape will be differ by its ratio of water and farmland. This new form of agriculture will operate as an economic driver that provides new job to villagers and facilitate the village to attract new incomers etc. The village will enter its next phase by its initial economic growth, to meet growing needs. For instance, some villages would need more accommodation due to the increasing demographic or others will have to construct factories that turns agricultural production into commercial product. The project suggest two architectural interventions which are reinterpretation of traditional courtyard house in order to meet the new necessities as well a preserving old traditional buildings.
Vignettes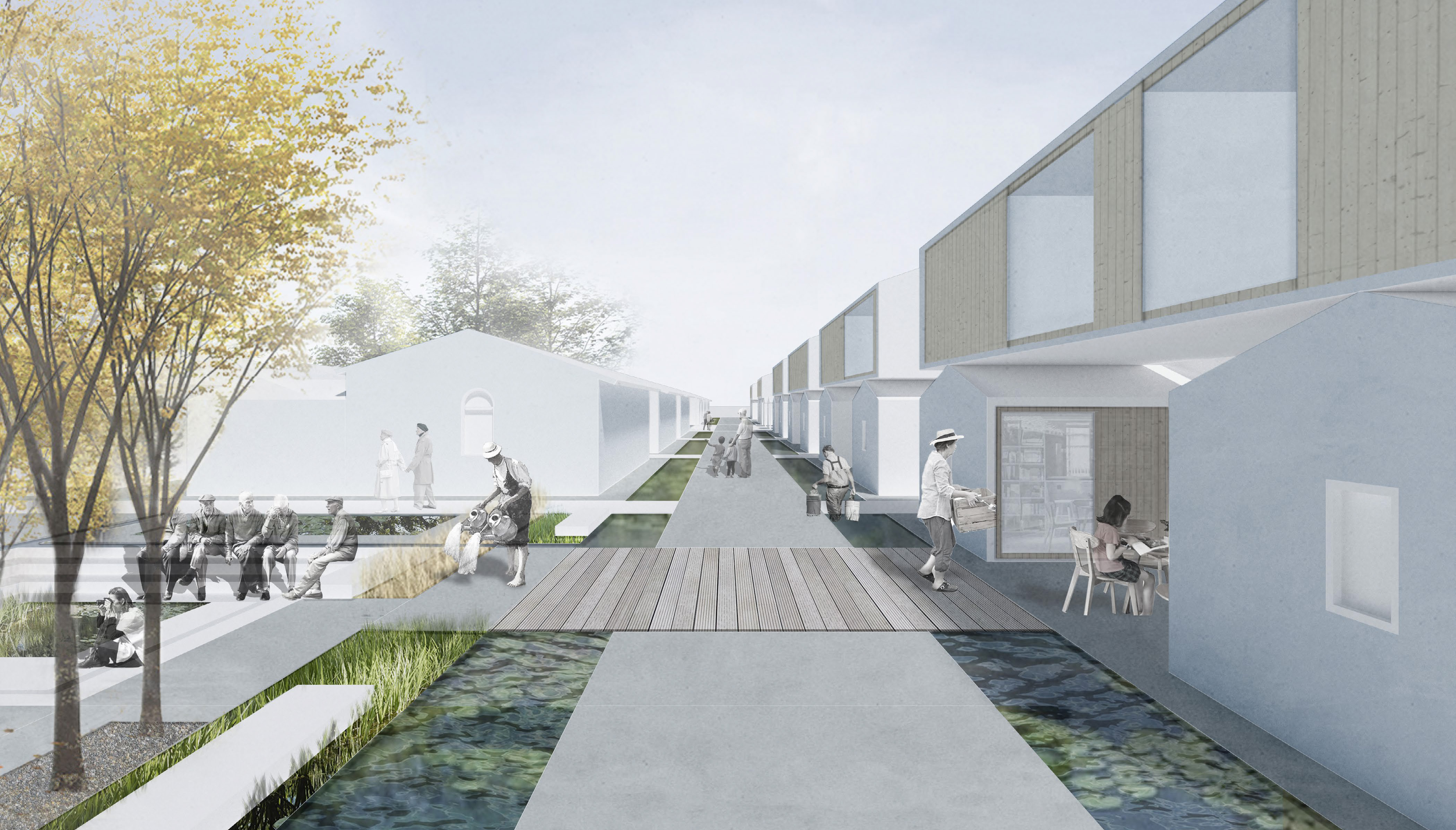 In sum, the project does not promote temporary development. However, by understanding and appreciating the everyday life, it suggests a sustainable vision for the countryside that extends in both future and the past.



拥抱二元化


在中国农村,农业生产是村民身份文化认同的重要组成部分且构成了民众的日常生活。但是,这种习俗在如今的乡村振兴中常被忽略,甚至会被其他更高产的经济形式压迫。远离纯生产力为先的实用主义立场,我们提出了一个以农业生产为催化剂,可振兴乡村社会的日常生活新模式。

台山的农业生态文化由传统水稻种植和鳗鱼养殖两个重要且截然不同的农业景观组成。通过整合、提升这两种主要农业景观,该项目寻求在未来二十年内促进台山的农业,并用其增长拉动第二产业和旅游业为重点的第三产业。

在第一阶段,本项目建议结合稻田和鳗鱼养殖场,形成新的混合景观。由于各产地水土资源的不同,我们将根据水源与耕地比例,因地制宜地结合两种农业生产。这种新的农业形式将成为经济驱动力,为村民提供就业机会,并吸引新居民。在下一阶段,得福于第一阶段地经济增长,村庄将有能力重整更进,以满足发展需求。一些村庄可以扩增居所,而另一些村庄可以应需建厂,将农业产物转化为商业产品。本项目中具体地设计了两种建筑更新措施,重新诠释了台山传统合院,希望能在应顺发展需求的同时保留传统建筑风味。

"拥抱二元化"项目不着眼于促进暂时性的发展;相反,通过理解和欣赏日常农业生活,本项目展望农村的可持续发展,望以台山农业传统文化奠基美好未来。

Presentation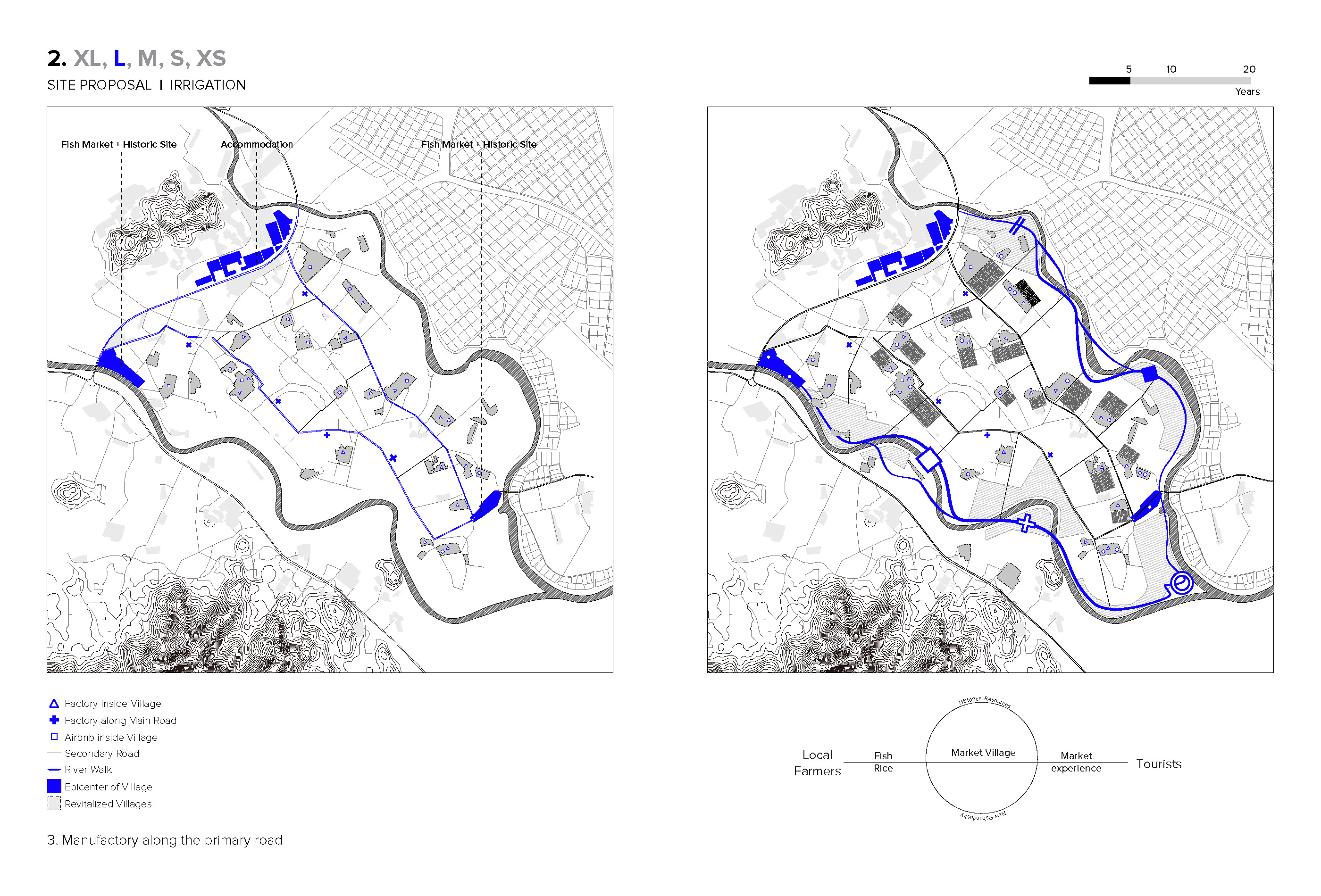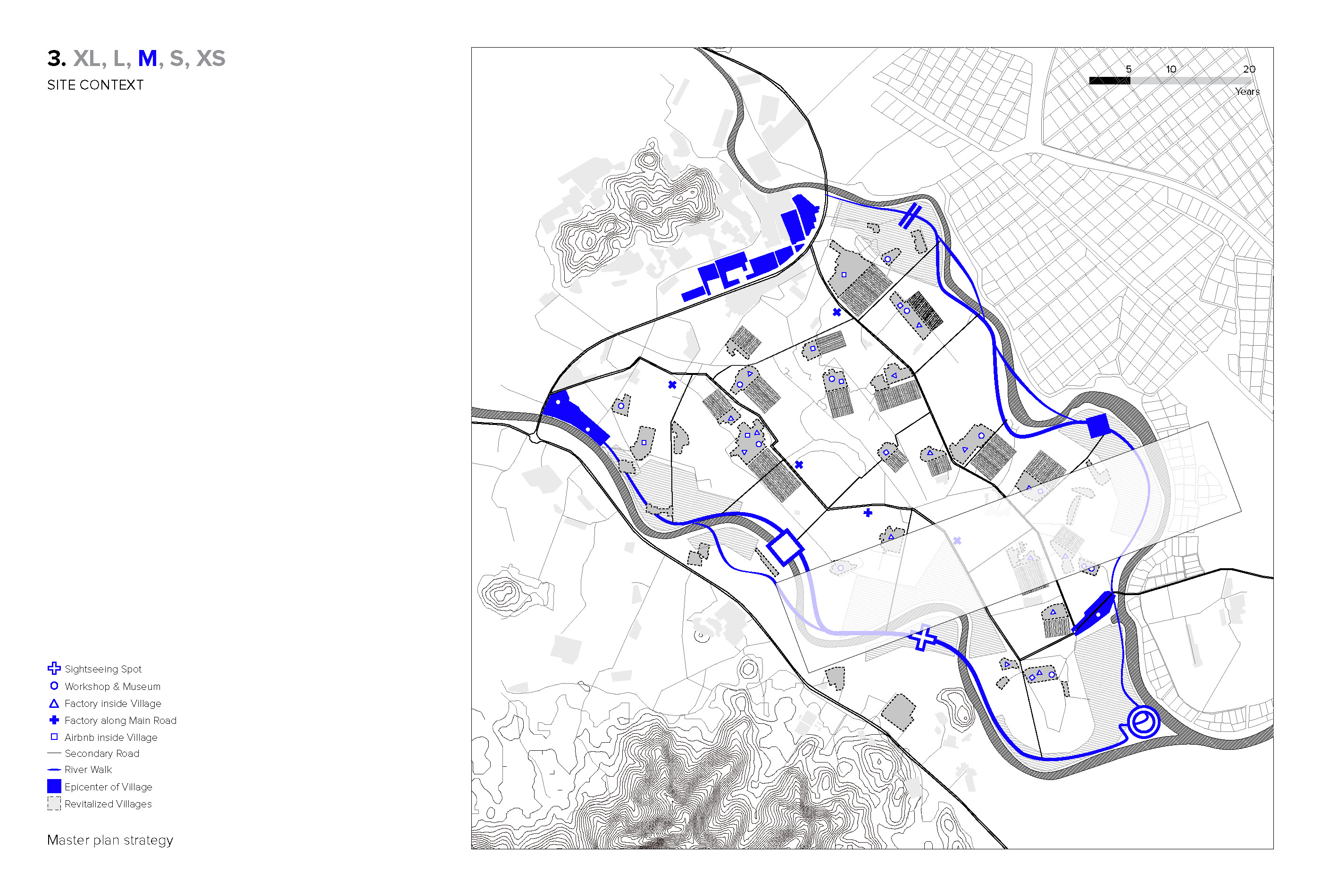 ---